September 11, 2013 Posted by Emre S. Tasci
How to Prepare an Input File for Surface Calculations
Emre S. Tasci
Description
One of the questions I'm frequently being asked by the students is the preparation of input files for surface calculations (or more accurately, "a practical way" for the purpose). In this text, starting from a structural data file for bulk, the methods to obtain the input file fit for structure calculations will be dealt.
Tools
Procedure
Initial structural data
Constructing the Supercell
We have built the supercell for a general task but at this stage, it's not convenient for preparing the surface since we first need to cleave with respect to the necessary lattice plane. So, revert to the conventional unit cell (either by reopening the data file or undoing (CTRL-z) our last action).
At this stage, the supercell formed is just a mode of display – we haven't made any solid changes yet. Also, if preferred one can choose how the unit cells will be displayed from the "Properties" setting's "General" tab.
Lattice Planes
Trimming the new unit cell
Transforming into the new unit cell
Taking o' as our new origin, the new lattice vectors in terms of the previous ones become (as we subtract the "origin's" coordinates):
a' = -a+b
b' = -1/2a-1/2b+c
c' = a+b+c
Therefore our transformation matrix is:
(i.e., "-a+b,-1/2a-1/2b+c,a+b+c" — the coefficients are read in columns)
A Word of caution
Final Touch
At this point, there might be a couple of questions that come to mind: What are those Pt atoms doing at the top of the unit cell? Why are the C atoms positioned above the batch instead of the Pt atoms?
Alternative Ways
It is the author's intention to soon implement such an automated tool for constructing surfaces from bulk data, integrated within the Bilbao Crystallographic Server's framework of tools.
Conclusion
Preparing a surface fit for atomic & molecular calculations can be tedious and tiresome. In this work, we have tried to guide the reader in a step-by-step procedure, sometimes wandering off from the direct path to show the mechanisms and reasons behind the usually taken on an "as-it-is" basis, without being pondered upon. This way, we hope that the techniques acquired throughout the text will be used in conjunction with other related problems in the future. A "walkthru" for the case studied ((111) PtC surface preparation) is included as Appendix to provide a quick consultation in the future.
Acknowledgements
This work is the result of the inquiries by the Ph.D. students M. Gökhan Şensoy and O. Karaca Orhan. If they hadn't asked a "practical way" to construct surfaces, I wouldn't have sought a way. Since I don't have much experience with surfaces, I turned to my dear friends Rengin Peköz and O. Barış Malcıoğlu for help, whom enlightened me with their experiences on the issue.
Appendix: Walkthru for PtC (111) Surface
Open VESTA, ("File→New Structure")

"Unit Cell":

Space Group: 225 (F m -3 m)
Lattice parameter a: 4.5 Å

"Structure Parameters":

New→Symbol:C; Label:C; x,y,z=0.0
New→Symbol:Pt; Label:Pt; x,y,z=0.5

"Boundary.."

x(min)=y(min)=z(min)=-2
x(max)=y(max)=z(max)=5

"Edit→Lattice Planes…"

(hkl)=(111); d(Å)=9.09327
(hkl)=(111); d(Å)=1.29904
(hkl)=(-110); d(Å)=3.18198
(hkl)=(-110); d(Å)=-3.18198
(hkl)=(11-2); d(Å)=3.67423
(hkl)=(11-2); d(Å)=-4.59279

(compare with Figure 

10↑

)

Select ("Select tool" – shortcut "s" key) and delete (shortcut "Del" key) all the atoms lying out of the area designated by the lattice planes.
Select an "origin-atom" of a corner and the 3 "axe-atoms" in the edge of each direction of the unit cell, write down their fractional coordinates

o(1,0,-1/2)
a(0,1,-1/2)
b(1/2,-1/2,1/2)
c(2,1,1/2)

Subtract the origin-atom coordinates from the rest and construct the transformation matrix accordingly

P = 

⎡

⎢

⎢

⎢

⎣

− 1

− 

1

2

1

1

− 

1

2

1

0

1

1

⎤

⎥

⎥

⎥

⎦

Transform the initial unit cell with this matrix via TRANSTRU (http://www.cryst.ehu.es/cryst/transtru.html) (Figure 14↑)
Save the resulting (low symmetry) structure as CIF, open it in VESTA, export it to VASP, select "Cartesian coordinates"
Open the VASP file in an editor, increase the c-lattice parameter to a big value (e.g. 25.000) to introduce vacuum. Save it and open it in VESTA.
---
August 7, 2012 Posted by Emre S. Tasci
… the Imperial Tie-Fighters kept on coming… (aka Structure Data Converter & Editor + Visualizer with full support for magnetic space groups)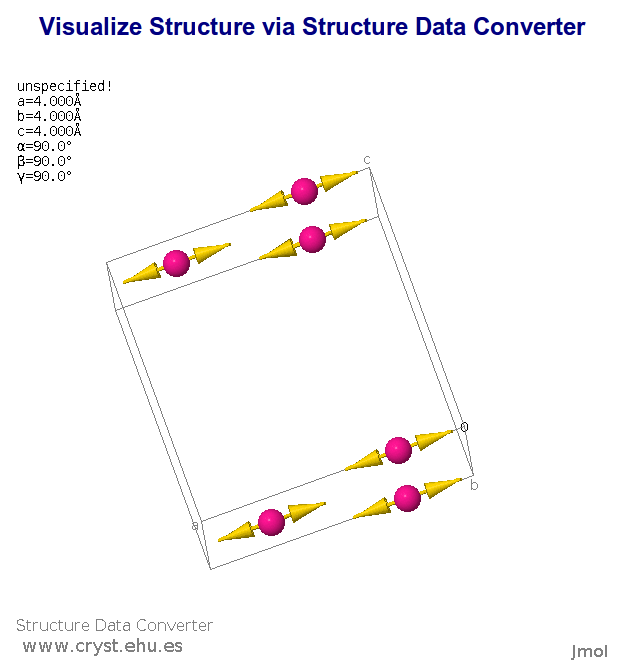 June 6, 2011 Posted by Emre S. Tasci
Having a personal wiki has its pros and cons with the pros being obvious but, on the other hand, one doesn't feel like reposting what he has already committed into the corresponding wikipedia entry (and since reposting means filtering out the sensitive information and generalizing it, it is double the effort). So this fact, more or less, explains my absence of activity in this blog for the last 1.5 years. But then, there is one negative aspect of personal wikipedia "blogging" – it's like putting everything under the rug : you classify the data/information and then you forget that it is there. That's when "actual" blogging (like this one) comes handy. So, sorry & welcome back..
Today, I'll present a code that I've just written to parse out the compatible paths from a tree. In my case, the three is the list of subgroups with indexes that one can acquire using Bilbao Crystallographic Server's marvelous SUBGROUPGRAPH tool. For low indexes, you can already have SUBGROUPGRAPH do this for you by specifying your supergroup G, subgroup H and the index [G:H]. For example, for G=136, H=14 and [G:H] = 8, you can have the following paths drawn: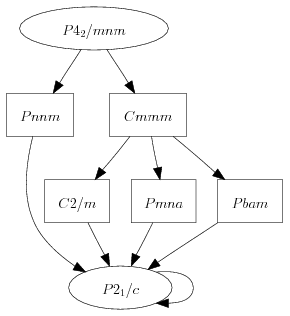 But as I said, things can get rough when you have a high index. In that case, we can (and we will) try to parse and analyze the paths tree which is outputted by SUBGROUPGRAPH when no index is designated, e.g., for G=136, H=14: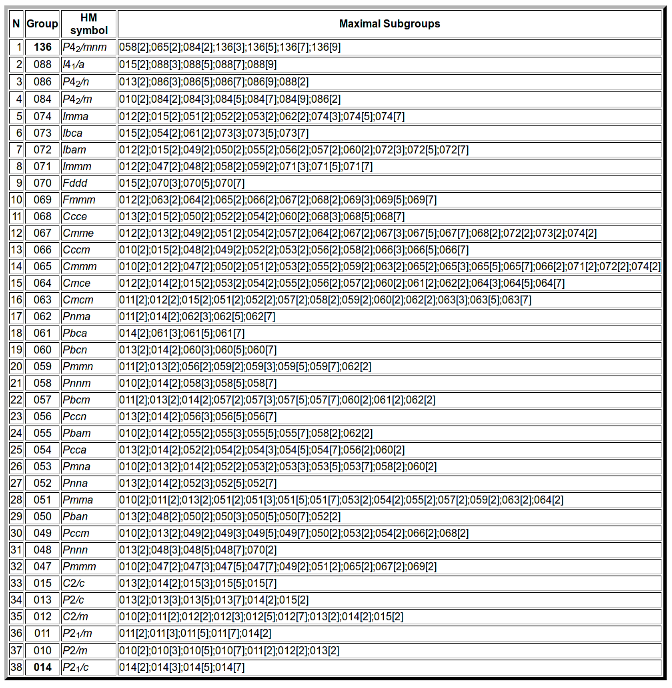 Where you see the maximal subgroups for the involved groups and their corresponding indexes. So, to go from P4_2/mnm (#136) to P2_1/c (#14) with index 8, we can follow the path:
P4_2/mnm (#136) –[2]–> Cmmm (#65) –[2]–> Pmna (#53) –[2]–> P2_1/c (#14)
with the related indexes given in the brackets totaling to 2x2x2 = 8.
The problem I had today was to find possible paths going from G=Fd-3m (#227) to H=Cc (#9) with index [G:H] = 192.
I first parsed the subgroup list into an array with their indexes, then followed the possible paths.
<?PHP
/* Emre S. Tasci <exxx.txxxx@ehu.es>                    *
 * By parsing the possible subgroup paths obtained from 
 * SUBGROUPGRAPH, finds the paths that are compatible 
 * with the given terminal super & sub groups and the 
 * designated index.
 *
 *                                              06/06/11 */

# Input Data === 0 ====================================================
$start_sup = 227;
$crit_index = 192;
$end_sub = 9;

$arr = file("data.txt"); # A sample of data.txt for the case of #227->#9
                         # is included at the end of the code.

# Input Data === 1 ====================================================

$arr_subs = Array();
$arr_labels = Array();
foreach($arr as $line)
{
    $auxarr = preg_split("/[ \t]+/",trim($line));
    #echo $auxarr[2]."\n";
    $sup = $auxarr[1];
    $suplabel = $auxarr[2];
    $arrsubs = split(";",$auxarr[3]);
    $arr_labels[$sup] = $suplabel;
    foreach($arrsubs as $subind)
    {
        $auxarr2 = Array();
        preg_match("/([0-9]+)\[([0-9]+)\]/",$subind,$auxarr2);
        #print_r($auxarr2);
        $sub = $auxarr2[1];
        $index = $auxarr2[2];
        $arr_subs[$sup][$index][] = $sub;
    }
}
#print_r($arr_subs);

# Start exploring
$start_sup = sprintf("%03d",$start_sup);
$end_sub = sprintf("%03d",$end_sub);
$arr_paths = Array();
$arr_paths[$start_sup] = 1;

findpath($start_sup);

function findpath($current_sup)
{
    global $arr_paths,$arr_subs,$crit_index,$end_sub;
    #echo "*".$current_sup."*\n";
    if(strrpos($current_sup,"-") !== FALSE)
    {
        $current_sup_last_sup = substr($current_sup,strrpos($current_sup,"-")+1);
        $current_sup_last_sup = substr($current_sup_last_sup,0,strpos($current_sup_last_sup,"["));
    }
        
    else
        $current_sup_last_sup = $current_sup;
    #echo "*".$current_sup_last_sup."*\n";
    $subindexes = array_keys($arr_subs[$current_sup_last_sup]);
    foreach($subindexes as $subindex)
    {
        $subs = $arr_subs[$current_sup_last_sup][$subindex];
        echo $subindex.": ".join(",",$subs)."\n";
        foreach($subs as $sub)
        {
            echo $current_sup."-".$sub."[".$subindex."]"."\n";
            $arr_paths[$current_sup."-".$sub."[".$subindex."]"] = $arr_paths[$current_sup] * $subindex;
            if($arr_paths[$current_sup."-".$sub."[".$subindex."]"]<$crit_index)
                findpath($current_sup."-".$sub."[".$subindex."]");
            elseif($arr_paths[$current_sup."-".$sub."[".$subindex."]"] == $crit_index && $sub == $end_sub)
                echo "\nPath Found: ".$current_sup."-".$sub."[".$subindex."]"."\n\n";
        }
    }
    #print_r($subindexes);
}
print_r($arr_paths);

/*
    data.txt:
1   227   Fd-3m   141[3];166[4];203[2];216[2]
2   220   I-43d   122[3];161[4]
3   219   F-43c   120[3];161[4];218[4]
4   218   P-43n   112[3];161[4];220[4]
5   217   I-43m   121[3];160[4];215[2];218[2]
6   216   F-43m   119[3];160[4];215[4]
7   215   P-43m   111[3];160[4];216[2];217[4];219[2]
8   203   Fd-3   070[3]
9   167   R-3c   015[3];161[2];165[3];167[4];167[5];167[7]
10   166   R-3m   012[3];160[2];164[3];166[2];166[4];166[5];166[7];167[2]
11   165   P-3c1   015[3];158[2];163[3];165[3];165[4];165[5];165[7]
12   164   P-3m1   012[3];156[2];162[3];164[2];164[3];164[4];164[5];164[7];165[2]
13   163   P-31c   015[3];159[2];163[3];163[4];163[5];163[7];165[3];167[3]
14   162   P-31m   012[3];157[2];162[2];162[3];162[4];162[5];162[7];163[2];164[3];166[3]
15   161   R3c   009[3];158[3];161[4];161[5];161[7]
16   160   R3m   008[3];156[3];160[2];160[4];160[5];160[7];161[2]
17   159   P31c   009[3];158[3];159[3];159[4];159[5];159[7];161[3]
18   158   P3c1   009[3];158[3];158[4];158[5];158[7];159[3]
19   157   P31m   008[3];156[3];157[2];157[3];157[4];157[5];157[7];159[2];160[3]
20   156   P3m1   008[3];156[2];156[3];156[4];156[5];156[7];157[3];158[2]
21   141   I41/amd   070[2];074[2];088[2];109[2];119[2];122[2];141[3];141[5];141[7];141[9]
22   122   I-42d   043[2];122[3];122[5];122[7];122[9]
23   121   I-42m   042[2];111[2];112[2];113[2];114[2];121[3];121[5];121[7];121[9]
24   120   I-4c2   045[2];116[2];117[2];120[3];120[5];120[7];120[9]
25   119   I-4m2   044[2];115[2];118[2];119[3];119[5];119[7];119[9]
26   118   P-4n2   034[2];118[3];118[5];118[7];118[9];122[2]
27   117   P-4b2   032[2];117[2];117[3];117[5];117[7];117[9];118[2]
28   116   P-4c2   027[2];112[2];114[2];116[3];116[5];116[7];116[9]
29   115   P-4m2   025[2];111[2];113[2];115[2];115[3];115[5];115[7];115[9];116[2];121[2]
30   114   P-421c   037[2];114[3];114[5];114[7];114[9]
31   113   P-421m   035[2];113[2];113[3];113[5];113[7];113[9];114[2]
32   112   P-42c   037[2];112[3];112[5];112[7];112[9];116[2];118[2]
33   111   P-42m   035[2];111[2];111[3];111[5];111[7];111[9];112[2];115[2];117[2];119[2];120[2]
34   109   I41md   043[2];044[2];109[3];109[5];109[7];109[9]
35   088   I41/a   015[2];088[3];088[5];088[7];088[9]
36   074   Imma   012[2];015[2];044[2];046[2];051[2];052[2];053[2];062[2];074[3];074[5];074[7]
37   070   Fddd   015[2];043[2];070[3];070[5];070[7]
38   064   Cmce   012[2];014[2];015[2];036[2];039[2];041[2];053[2];054[2];055[2];056[2];057[2];060[2];061[2];062[2];064[3];064[5];064[7]
39   063   Cmcm   011[2];012[2];015[2];036[2];038[2];040[2];051[2];052[2];057[2];058[2];059[2];060[2];062[2];063[3];063[5];063[7]
40   062   Pnma   011[2];014[2];026[2];031[2];033[2];062[3];062[5];062[7]
41   061   Pbca   014[2];029[2];061[3];061[5];061[7]
42   060   Pbcn   013[2];014[2];029[2];030[2];033[2];060[3];060[5];060[7]
43   059   Pmmn   011[2];013[2];025[2];031[2];056[2];059[2];059[3];059[5];059[7];062[2]
44   058   Pnnm   010[2];014[2];031[2];034[2];058[3];058[5];058[7]
45   057   Pbcm   011[2];013[2];014[2];026[2];028[2];029[2];057[2];057[3];057[5];057[7];060[2];061[2];062[2]
46   056   Pccn   013[2];014[2];027[2];033[2];056[3];056[5];056[7]
47   055   Pbam   010[2];014[2];026[2];032[2];055[2];055[3];055[5];055[7];058[2];062[2]
48   054   Pcca   013[2];014[2];027[2];029[2];032[2];052[2];054[2];054[3];054[5];054[7];056[2];060[2]
49   053   Pmna   010[2];013[2];014[2];028[2];030[2];031[2];052[2];053[2];053[3];053[5];053[7];058[2];060[2]
50   052   Pnna   013[2];014[2];030[2];033[2];034[2];052[3];052[5];052[7]
51   051   Pmma   010[2];011[2];013[2];025[2];026[2];028[2];051[2];051[3];051[5];051[7];053[2];054[2];055[2];057[2];059[2];063[2];064[2]
52   046   Ima2   008[2];009[2];026[2];028[2];030[2];033[2];046[3];046[5];046[7]
53   045   Iba2   009[2];027[2];029[2];032[2];045[3];045[5];045[7]
54   044   Imm2   008[2];025[2];031[2];034[2];044[3];044[5];044[7]
55   043   Fdd2   009[2];043[3];043[5];043[7]
56   042   Fmm2   008[2];035[2];036[2];037[2];038[2];039[2];040[2];041[2];042[3];042[5];042[7]
57   041   Aea2   007[2];009[2];029[2];030[2];032[2];033[2];041[3];041[5];041[7]
58   040   Ama2   006[2];009[2];028[2];031[2];033[2];034[2];040[3];040[5];040[7]
59   039   Aem2   007[2];008[2];026[2];027[2];028[2];029[2];039[2];039[3];039[5];039[7];041[2];045[2];046[2]
60   038   Amm2   006[2];008[2];025[2];026[2];030[2];031[2];038[2];038[3];038[5];038[7];040[2];044[2];046[2]
61   037   Ccc2   009[2];027[2];030[2];034[2];037[3];037[5];037[7]
62   036   Cmc21   008[2];009[2];026[2];029[2];031[2];033[2];036[3];036[5];036[7]
63   035   Cmm2   008[2];025[2];028[2];032[2];035[2];035[3];035[5];035[7];036[2];037[2];044[2];045[2];046[2]
64   034   Pnn2   007[2];034[3];034[5];034[7];043[2]
65   033   Pna21   007[2];033[3];033[5];033[7]
66   032   Pba2   007[2];032[2];032[3];032[5];032[7];033[2];034[2]
67   031   Pmn21   006[2];007[2];031[2];031[3];031[5];031[7];033[2]
68   030   Pnc2   007[2];030[2];030[3];030[5];030[7];034[2]
69   029   Pca21   007[2];029[2];029[3];029[5];029[7];033[2]
70   028   Pma2   006[2];007[2];028[2];028[3];028[5];028[7];029[2];030[2];031[2];032[2];040[2];041[2]
71   027   Pcc2   007[2];027[2];027[3];027[5];027[7];030[2];037[2]
72   026   Pmc21   006[2];007[2];026[2];026[3];026[5];026[7];029[2];031[2];036[2]
73   025   Pmm2   006[2];025[2];025[3];025[5];025[7];026[2];027[2];028[2];035[2];038[2];039[2];042[2]
74   015   C2/c   009[2];013[2];014[2];015[3];015[5];015[7]
75   014   P21/c   007[2];014[2];014[3];014[5];014[7]
76   013   P2/c   007[2];013[2];013[3];013[5];013[7];014[2];015[2]
77   012   C2/m   008[2];010[2];011[2];012[2];012[3];012[5];012[7];013[2];014[2];015[2]
78   011   P21/m   006[2];011[2];011[3];011[5];011[7];014[2]
79   010   P2/m   006[2];010[2];010[3];010[5];010[7];011[2];012[2];013[2]
80   008   Cm   006[2];007[2];008[2];008[3];008[5];008[7];009[2]
81   007   Pc   007[2];007[3];007[5];007[7];009[2]
82   006   Pm   006[2];006[3];006[5];006[7];007[2];008[2]
83   009   Cc   007[2];009[3];009[5];009[7]
 */

When run, the code lists all the paths with the matching ones preceded by "Path Found", so if you grep wrt it, you'll have, for this example:


sururi@husniya:/xxx$ php find_trpath_for_index.php |grep Path|sed "s:Path Found\: ::"
227-141[3]-070[2]-015[2]-009[2]-007[2]-007[2]-009[2]
227-141[3]-070[2]-015[2]-013[2]-007[2]-007[2]-009[2]
227-141[3]-070[2]-015[2]-013[2]-013[2]-007[2]-009[2]
227-141[3]-070[2]-015[2]-013[2]-013[2]-015[2]-009[2]
227-141[3]-070[2]-015[2]-013[2]-014[2]-007[2]-009[2]
227-141[3]-070[2]-015[2]-014[2]-007[2]-007[2]-009[2]
227-141[3]-070[2]-015[2]-014[2]-014[2]-007[2]-009[2]
227-141[3]-070[2]-043[2]-009[2]-007[2]-007[2]-009[2]
227-141[3]-074[2]-012[2]-008[2]-006[2]-007[2]-009[2]
227-141[3]-074[2]-012[2]-008[2]-006[2]-008[2]-009[2]
227-141[3]-074[2]-012[2]-008[2]-007[2]-007[2]-009[2]
227-141[3]-074[2]-012[2]-008[2]-008[2]-007[2]-009[2]
227-141[3]-074[2]-012[2]-008[2]-008[2]-008[2]-009[2]
227-141[3]-074[2]-012[2]-008[2]-009[2]-007[2]-009[2]
227-141[3]-074[2]-012[2]-010[2]-006[2]-007[2]-009[2]
227-141[3]-074[2]-012[2]-010[2]-006[2]-008[2]-009[2]
227-141[3]-074[2]-012[2]-010[2]-012[2]-008[2]-009[2]
227-141[3]-074[2]-012[2]-010[2]-012[2]-015[2]-009[2]
227-141[3]-074[2]-012[2]-010[2]-013[2]-007[2]-009[2]
227-141[3]-074[2]-012[2]-010[2]-013[2]-015[2]-009[2]
227-141[3]-074[2]-012[2]-011[2]-006[2]-007[2]-009[2]
227-141[3]-074[2]-012[2]-011[2]-006[2]-008[2]-009[2]
227-141[3]-074[2]-012[2]-011[2]-014[2]-007[2]-009[2]
227-141[3]-074[2]-012[2]-012[2]-008[2]-007[2]-009[2]
227-141[3]-074[2]-012[2]-012[2]-008[2]-008[2]-009[2]
227-141[3]-074[2]-012[2]-012[2]-012[2]-008[2]-009[2]
227-141[3]-074[2]-012[2]-012[2]-012[2]-015[2]-009[2]
227-141[3]-074[2]-012[2]-012[2]-013[2]-007[2]-009[2]
227-141[3]-074[2]-012[2]-012[2]-013[2]-015[2]-009[2]
227-141[3]-074[2]-012[2]-012[2]-014[2]-007[2]-009[2]
227-141[3]-074[2]-012[2]-013[2]-007[2]-007[2]-009[2]
227-141[3]-074[2]-012[2]-013[2]-013[2]-007[2]-009[2]
227-141[3]-074[2]-012[2]-013[2]-013[2]-015[2]-009[2]
227-141[3]-074[2]-012[2]-013[2]-014[2]-007[2]-009[2]
227-141[3]-074[2]-012[2]-014[2]-007[2]-007[2]-009[2]
227-141[3]-074[2]-012[2]-014[2]-014[2]-007[2]-009[2]
227-141[3]-074[2]-012[2]-015[2]-009[2]-007[2]-009[2]
227-141[3]-074[2]-012[2]-015[2]-013[2]-007[2]-009[2]
227-141[3]-074[2]-012[2]-015[2]-013[2]-015[2]-009[2]
227-141[3]-074[2]-012[2]-015[2]-014[2]-007[2]-009[2]
227-141[3]-074[2]-015[2]-009[2]-007[2]-007[2]-009[2]
227-141[3]-074[2]-015[2]-013[2]-007[2]-007[2]-009[2]
227-141[3]-074[2]-015[2]-013[2]-013[2]-007[2]-009[2]
227-141[3]-074[2]-015[2]-013[2]-013[2]-015[2]-009[2]
227-141[3]-074[2]-015[2]-013[2]-014[2]-007[2]-009[2]
227-141[3]-074[2]-015[2]-014[2]-007[2]-007[2]-009[2]
227-141[3]-074[2]-015[2]-014[2]-014[2]-007[2]-009[2]
227-141[3]-074[2]-044[2]-008[2]-006[2]-007[2]-009[2]
227-141[3]-074[2]-044[2]-008[2]-006[2]-008[2]-009[2]
227-141[3]-074[2]-044[2]-008[2]-007[2]-007[2]-009[2]
227-141[3]-074[2]-044[2]-008[2]-008[2]-007[2]-009[2]
227-141[3]-074[2]-044[2]-008[2]-008[2]-008[2]-009[2]
227-141[3]-074[2]-044[2]-008[2]-009[2]-007[2]-009[2]
227-141[3]-074[2]-044[2]-025[2]-006[2]-007[2]-009[2]
227-141[3]-074[2]-044[2]-025[2]-006[2]-008[2]-009[2]
227-141[3]-074[2]-044[2]-025[2]-026[2]-007[2]-009[2]
227-141[3]-074[2]-044[2]-025[2]-026[2]-036[2]-009[2]
227-141[3]-074[2]-044[2]-025[2]-027[2]-007[2]-009[2]
227-141[3]-074[2]-044[2]-025[2]-027[2]-037[2]-009[2]
227-141[3]-074[2]-044[2]-025[2]-028[2]-007[2]-009[2]
227-141[3]-074[2]-044[2]-025[2]-028[2]-040[2]-009[2]
227-141[3]-074[2]-044[2]-025[2]-028[2]-041[2]-009[2]
227-141[3]-074[2]-044[2]-025[2]-035[2]-008[2]-009[2]
227-141[3]-074[2]-044[2]-025[2]-035[2]-036[2]-009[2]
227-141[3]-074[2]-044[2]-025[2]-035[2]-037[2]-009[2]
227-141[3]-074[2]-044[2]-025[2]-035[2]-045[2]-009[2]
227-141[3]-074[2]-044[2]-025[2]-035[2]-046[2]-009[2]
227-141[3]-074[2]-044[2]-025[2]-038[2]-008[2]-009[2]
227-141[3]-074[2]-044[2]-025[2]-038[2]-040[2]-009[2]
227-141[3]-074[2]-044[2]-025[2]-038[2]-046[2]-009[2]
227-141[3]-074[2]-044[2]-025[2]-039[2]-007[2]-009[2]
227-141[3]-074[2]-044[2]-025[2]-039[2]-008[2]-009[2]
227-141[3]-074[2]-044[2]-025[2]-039[2]-041[2]-009[2]
227-141[3]-074[2]-044[2]-025[2]-039[2]-045[2]-009[2]
227-141[3]-074[2]-044[2]-025[2]-039[2]-046[2]-009[2]
227-141[3]-074[2]-044[2]-025[2]-042[2]-008[2]-009[2]
227-141[3]-074[2]-044[2]-025[2]-042[2]-036[2]-009[2]
227-141[3]-074[2]-044[2]-025[2]-042[2]-037[2]-009[2]
227-141[3]-074[2]-044[2]-025[2]-042[2]-040[2]-009[2]
227-141[3]-074[2]-044[2]-025[2]-042[2]-041[2]-009[2]
227-141[3]-074[2]-044[2]-031[2]-006[2]-007[2]-009[2]
227-141[3]-074[2]-044[2]-031[2]-006[2]-008[2]-009[2]
227-141[3]-074[2]-044[2]-031[2]-007[2]-007[2]-009[2]
227-141[3]-074[2]-044[2]-031[2]-031[2]-007[2]-009[2]
227-141[3]-074[2]-044[2]-031[2]-033[2]-007[2]-009[2]
227-141[3]-074[2]-044[2]-034[2]-007[2]-007[2]-009[2]
227-141[3]-074[2]-046[2]-008[2]-006[2]-007[2]-009[2]
227-141[3]-074[2]-046[2]-008[2]-006[2]-008[2]-009[2]
227-141[3]-074[2]-046[2]-008[2]-007[2]-007[2]-009[2]
227-141[3]-074[2]-046[2]-008[2]-008[2]-007[2]-009[2]
227-141[3]-074[2]-046[2]-008[2]-008[2]-008[2]-009[2]
227-141[3]-074[2]-046[2]-008[2]-009[2]-007[2]-009[2]
227-141[3]-074[2]-046[2]-009[2]-007[2]-007[2]-009[2]
227-141[3]-074[2]-046[2]-026[2]-006[2]-007[2]-009[2]
227-141[3]-074[2]-046[2]-026[2]-006[2]-008[2]-009[2]
227-141[3]-074[2]-046[2]-026[2]-007[2]-007[2]-009[2]
227-141[3]-074[2]-046[2]-026[2]-026[2]-007[2]-009[2]
227-141[3]-074[2]-046[2]-026[2]-026[2]-036[2]-009[2]
227-141[3]-074[2]-046[2]-026[2]-029[2]-007[2]-009[2]
227-141[3]-074[2]-046[2]-026[2]-031[2]-007[2]-009[2]
227-141[3]-074[2]-046[2]-026[2]-036[2]-008[2]-009[2]
227-141[3]-074[2]-046[2]-028[2]-006[2]-007[2]-009[2]
227-141[3]-074[2]-046[2]-028[2]-006[2]-008[2]-009[2]
227-141[3]-074[2]-046[2]-028[2]-007[2]-007[2]-009[2]
227-141[3]-074[2]-046[2]-028[2]-028[2]-007[2]-009[2]
227-141[3]-074[2]-046[2]-028[2]-028[2]-040[2]-009[2]
227-141[3]-074[2]-046[2]-028[2]-028[2]-041[2]-009[2]
227-141[3]-074[2]-046[2]-028[2]-029[2]-007[2]-009[2]
227-141[3]-074[2]-046[2]-028[2]-030[2]-007[2]-009[2]
227-141[3]-074[2]-046[2]-028[2]-031[2]-007[2]-009[2]
227-141[3]-074[2]-046[2]-028[2]-032[2]-007[2]-009[2]
227-141[3]-074[2]-046[2]-028[2]-041[2]-007[2]-009[2]
227-141[3]-074[2]-046[2]-030[2]-007[2]-007[2]-009[2]
227-141[3]-074[2]-046[2]-030[2]-030[2]-007[2]-009[2]
227-141[3]-074[2]-046[2]-030[2]-034[2]-007[2]-009[2]
227-141[3]-074[2]-046[2]-030[2]-034[2]-043[2]-009[2]
227-141[3]-074[2]-046[2]-033[2]-007[2]-007[2]-009[2]
227-141[3]-074[2]-051[2]-010[2]-006[2]-007[2]-009[2]
227-141[3]-074[2]-051[2]-010[2]-006[2]-008[2]-009[2]
227-141[3]-074[2]-051[2]-010[2]-012[2]-008[2]-009[2]
227-141[3]-074[2]-051[2]-010[2]-012[2]-015[2]-009[2]
227-141[3]-074[2]-051[2]-010[2]-013[2]-007[2]-009[2]
227-141[3]-074[2]-051[2]-010[2]-013[2]-015[2]-009[2]
227-141[3]-074[2]-051[2]-011[2]-006[2]-007[2]-009[2]
227-141[3]-074[2]-051[2]-011[2]-006[2]-008[2]-009[2]
227-141[3]-074[2]-051[2]-011[2]-014[2]-007[2]-009[2]
227-141[3]-074[2]-051[2]-013[2]-007[2]-007[2]-009[2]
227-141[3]-074[2]-051[2]-013[2]-013[2]-007[2]-009[2]
227-141[3]-074[2]-051[2]-013[2]-013[2]-015[2]-009[2]
227-141[3]-074[2]-051[2]-013[2]-014[2]-007[2]-009[2]
227-141[3]-074[2]-051[2]-025[2]-006[2]-007[2]-009[2]
227-141[3]-074[2]-051[2]-025[2]-006[2]-008[2]-009[2]
227-141[3]-074[2]-051[2]-025[2]-026[2]-007[2]-009[2]
227-141[3]-074[2]-051[2]-025[2]-026[2]-036[2]-009[2]
227-141[3]-074[2]-051[2]-025[2]-027[2]-007[2]-009[2]
227-141[3]-074[2]-051[2]-025[2]-027[2]-037[2]-009[2]
227-141[3]-074[2]-051[2]-025[2]-028[2]-007[2]-009[2]
227-141[3]-074[2]-051[2]-025[2]-028[2]-040[2]-009[2]
227-141[3]-074[2]-051[2]-025[2]-028[2]-041[2]-009[2]
227-141[3]-074[2]-051[2]-025[2]-035[2]-008[2]-009[2]
227-141[3]-074[2]-051[2]-025[2]-035[2]-036[2]-009[2]
227-141[3]-074[2]-051[2]-025[2]-035[2]-037[2]-009[2]
227-141[3]-074[2]-051[2]-025[2]-035[2]-045[2]-009[2]
227-141[3]-074[2]-051[2]-025[2]-035[2]-046[2]-009[2]
227-141[3]-074[2]-051[2]-025[2]-038[2]-008[2]-009[2]
227-141[3]-074[2]-051[2]-025[2]-038[2]-040[2]-009[2]
227-141[3]-074[2]-051[2]-025[2]-038[2]-046[2]-009[2]
227-141[3]-074[2]-051[2]-025[2]-039[2]-007[2]-009[2]
227-141[3]-074[2]-051[2]-025[2]-039[2]-008[2]-009[2]
227-141[3]-074[2]-051[2]-025[2]-039[2]-041[2]-009[2]
227-141[3]-074[2]-051[2]-025[2]-039[2]-045[2]-009[2]
227-141[3]-074[2]-051[2]-025[2]-039[2]-046[2]-009[2]
227-141[3]-074[2]-051[2]-025[2]-042[2]-008[2]-009[2]
227-141[3]-074[2]-051[2]-025[2]-042[2]-036[2]-009[2]
227-141[3]-074[2]-051[2]-025[2]-042[2]-037[2]-009[2]
227-141[3]-074[2]-051[2]-025[2]-042[2]-040[2]-009[2]
227-141[3]-074[2]-051[2]-025[2]-042[2]-041[2]-009[2]
227-141[3]-074[2]-051[2]-026[2]-006[2]-007[2]-009[2]
227-141[3]-074[2]-051[2]-026[2]-006[2]-008[2]-009[2]
227-141[3]-074[2]-051[2]-026[2]-007[2]-007[2]-009[2]
227-141[3]-074[2]-051[2]-026[2]-026[2]-007[2]-009[2]
227-141[3]-074[2]-051[2]-026[2]-026[2]-036[2]-009[2]
227-141[3]-074[2]-051[2]-026[2]-029[2]-007[2]-009[2]
227-141[3]-074[2]-051[2]-026[2]-031[2]-007[2]-009[2]
227-141[3]-074[2]-051[2]-026[2]-036[2]-008[2]-009[2]
227-141[3]-074[2]-051[2]-028[2]-006[2]-007[2]-009[2]
227-141[3]-074[2]-051[2]-028[2]-006[2]-008[2]-009[2]
227-141[3]-074[2]-051[2]-028[2]-007[2]-007[2]-009[2]
227-141[3]-074[2]-051[2]-028[2]-028[2]-007[2]-009[2]
227-141[3]-074[2]-051[2]-028[2]-028[2]-040[2]-009[2]
227-141[3]-074[2]-051[2]-028[2]-028[2]-041[2]-009[2]
227-141[3]-074[2]-051[2]-028[2]-029[2]-007[2]-009[2]
227-141[3]-074[2]-051[2]-028[2]-030[2]-007[2]-009[2]
227-141[3]-074[2]-051[2]-028[2]-031[2]-007[2]-009[2]
227-141[3]-074[2]-051[2]-028[2]-032[2]-007[2]-009[2]
227-141[3]-074[2]-051[2]-028[2]-041[2]-007[2]-009[2]
227-141[3]-074[2]-051[2]-051[2]-013[2]-007[2]-009[2]
227-141[3]-074[2]-051[2]-051[2]-013[2]-015[2]-009[2]
227-141[3]-074[2]-051[2]-051[2]-026[2]-007[2]-009[2]
227-141[3]-074[2]-051[2]-051[2]-026[2]-036[2]-009[2]
227-141[3]-074[2]-051[2]-051[2]-028[2]-007[2]-009[2]
227-141[3]-074[2]-051[2]-051[2]-028[2]-040[2]-009[2]
227-141[3]-074[2]-051[2]-051[2]-028[2]-041[2]-009[2]
227-141[3]-074[2]-051[2]-051[2]-063[2]-015[2]-009[2]
227-141[3]-074[2]-051[2]-051[2]-063[2]-036[2]-009[2]
227-141[3]-074[2]-051[2]-051[2]-063[2]-040[2]-009[2]
227-141[3]-074[2]-051[2]-051[2]-064[2]-015[2]-009[2]
227-141[3]-074[2]-051[2]-051[2]-064[2]-036[2]-009[2]
227-141[3]-074[2]-051[2]-051[2]-064[2]-041[2]-009[2]
227-141[3]-074[2]-051[2]-053[2]-013[2]-007[2]-009[2]
227-141[3]-074[2]-051[2]-053[2]-013[2]-015[2]-009[2]
227-141[3]-074[2]-051[2]-053[2]-014[2]-007[2]-009[2]
227-141[3]-074[2]-051[2]-053[2]-028[2]-007[2]-009[2]
227-141[3]-074[2]-051[2]-053[2]-028[2]-040[2]-009[2]
227-141[3]-074[2]-051[2]-053[2]-028[2]-041[2]-009[2]
227-141[3]-074[2]-051[2]-053[2]-030[2]-007[2]-009[2]
227-141[3]-074[2]-051[2]-053[2]-031[2]-007[2]-009[2]
227-141[3]-074[2]-051[2]-054[2]-013[2]-007[2]-009[2]
227-141[3]-074[2]-051[2]-054[2]-013[2]-015[2]-009[2]
227-141[3]-074[2]-051[2]-054[2]-014[2]-007[2]-009[2]
227-141[3]-074[2]-051[2]-054[2]-027[2]-007[2]-009[2]
227-141[3]-074[2]-051[2]-054[2]-027[2]-037[2]-009[2]
227-141[3]-074[2]-051[2]-054[2]-029[2]-007[2]-009[2]
227-141[3]-074[2]-051[2]-054[2]-032[2]-007[2]-009[2]
227-141[3]-074[2]-051[2]-055[2]-014[2]-007[2]-009[2]
227-141[3]-074[2]-051[2]-055[2]-026[2]-007[2]-009[2]
227-141[3]-074[2]-051[2]-055[2]-026[2]-036[2]-009[2]
227-141[3]-074[2]-051[2]-055[2]-032[2]-007[2]-009[2]
227-141[3]-074[2]-051[2]-057[2]-013[2]-007[2]-009[2]
227-141[3]-074[2]-051[2]-057[2]-013[2]-015[2]-009[2]
227-141[3]-074[2]-051[2]-057[2]-014[2]-007[2]-009[2]
227-141[3]-074[2]-051[2]-057[2]-026[2]-007[2]-009[2]
227-141[3]-074[2]-051[2]-057[2]-026[2]-036[2]-009[2]
227-141[3]-074[2]-051[2]-057[2]-028[2]-007[2]-009[2]
227-141[3]-074[2]-051[2]-057[2]-028[2]-040[2]-009[2]
227-141[3]-074[2]-051[2]-057[2]-028[2]-041[2]-009[2]
227-141[3]-074[2]-051[2]-057[2]-029[2]-007[2]-009[2]
227-141[3]-074[2]-051[2]-059[2]-013[2]-007[2]-009[2]
227-141[3]-074[2]-051[2]-059[2]-013[2]-015[2]-009[2]
227-141[3]-074[2]-051[2]-059[2]-031[2]-007[2]-009[2]
227-141[3]-074[2]-051[2]-063[2]-012[2]-008[2]-009[2]
227-141[3]-074[2]-051[2]-063[2]-012[2]-015[2]-009[2]
227-141[3]-074[2]-051[2]-063[2]-036[2]-008[2]-009[2]
227-141[3]-074[2]-051[2]-063[2]-038[2]-008[2]-009[2]
227-141[3]-074[2]-051[2]-063[2]-038[2]-040[2]-009[2]
227-141[3]-074[2]-051[2]-063[2]-038[2]-046[2]-009[2]
227-141[3]-074[2]-051[2]-064[2]-012[2]-008[2]-009[2]
227-141[3]-074[2]-051[2]-064[2]-012[2]-015[2]-009[2]
227-141[3]-074[2]-051[2]-064[2]-014[2]-007[2]-009[2]
227-141[3]-074[2]-051[2]-064[2]-036[2]-008[2]-009[2]
227-141[3]-074[2]-051[2]-064[2]-039[2]-007[2]-009[2]
227-141[3]-074[2]-051[2]-064[2]-039[2]-008[2]-009[2]
227-141[3]-074[2]-051[2]-064[2]-039[2]-041[2]-009[2]
227-141[3]-074[2]-051[2]-064[2]-039[2]-045[2]-009[2]
227-141[3]-074[2]-051[2]-064[2]-039[2]-046[2]-009[2]
227-141[3]-074[2]-051[2]-064[2]-041[2]-007[2]-009[2]
227-141[3]-074[2]-052[2]-013[2]-007[2]-007[2]-009[2]
227-141[3]-074[2]-052[2]-013[2]-013[2]-007[2]-009[2]
227-141[3]-074[2]-052[2]-013[2]-013[2]-015[2]-009[2]
227-141[3]-074[2]-052[2]-013[2]-014[2]-007[2]-009[2]
227-141[3]-074[2]-052[2]-014[2]-007[2]-007[2]-009[2]
227-141[3]-074[2]-052[2]-014[2]-014[2]-007[2]-009[2]
227-141[3]-074[2]-052[2]-030[2]-007[2]-007[2]-009[2]
227-141[3]-074[2]-052[2]-030[2]-030[2]-007[2]-009[2]
227-141[3]-074[2]-052[2]-030[2]-034[2]-007[2]-009[2]
227-141[3]-074[2]-052[2]-030[2]-034[2]-043[2]-009[2]
227-141[3]-074[2]-052[2]-033[2]-007[2]-007[2]-009[2]
227-141[3]-074[2]-052[2]-034[2]-007[2]-007[2]-009[2]
227-141[3]-074[2]-053[2]-010[2]-006[2]-007[2]-009[2]
227-141[3]-074[2]-053[2]-010[2]-006[2]-008[2]-009[2]
227-141[3]-074[2]-053[2]-010[2]-012[2]-008[2]-009[2]
227-141[3]-074[2]-053[2]-010[2]-012[2]-015[2]-009[2]
227-141[3]-074[2]-053[2]-010[2]-013[2]-007[2]-009[2]
227-141[3]-074[2]-053[2]-010[2]-013[2]-015[2]-009[2]
227-141[3]-074[2]-053[2]-013[2]-007[2]-007[2]-009[2]
227-141[3]-074[2]-053[2]-013[2]-013[2]-007[2]-009[2]
227-141[3]-074[2]-053[2]-013[2]-013[2]-015[2]-009[2]
227-141[3]-074[2]-053[2]-013[2]-014[2]-007[2]-009[2]
227-141[3]-074[2]-053[2]-014[2]-007[2]-007[2]-009[2]
227-141[3]-074[2]-053[2]-014[2]-014[2]-007[2]-009[2]
227-141[3]-074[2]-053[2]-028[2]-006[2]-007[2]-009[2]
227-141[3]-074[2]-053[2]-028[2]-006[2]-008[2]-009[2]
227-141[3]-074[2]-053[2]-028[2]-007[2]-007[2]-009[2]
227-141[3]-074[2]-053[2]-028[2]-028[2]-007[2]-009[2]
227-141[3]-074[2]-053[2]-028[2]-028[2]-040[2]-009[2]
227-141[3]-074[2]-053[2]-028[2]-028[2]-041[2]-009[2]
227-141[3]-074[2]-053[2]-028[2]-029[2]-007[2]-009[2]
227-141[3]-074[2]-053[2]-028[2]-030[2]-007[2]-009[2]
227-141[3]-074[2]-053[2]-028[2]-031[2]-007[2]-009[2]
227-141[3]-074[2]-053[2]-028[2]-032[2]-007[2]-009[2]
227-141[3]-074[2]-053[2]-028[2]-041[2]-007[2]-009[2]
227-141[3]-074[2]-053[2]-030[2]-007[2]-007[2]-009[2]
227-141[3]-074[2]-053[2]-030[2]-030[2]-007[2]-009[2]
227-141[3]-074[2]-053[2]-030[2]-034[2]-007[2]-009[2]
227-141[3]-074[2]-053[2]-030[2]-034[2]-043[2]-009[2]
227-141[3]-074[2]-053[2]-031[2]-006[2]-007[2]-009[2]
227-141[3]-074[2]-053[2]-031[2]-006[2]-008[2]-009[2]
227-141[3]-074[2]-053[2]-031[2]-007[2]-007[2]-009[2]
227-141[3]-074[2]-053[2]-031[2]-031[2]-007[2]-009[2]
227-141[3]-074[2]-053[2]-031[2]-033[2]-007[2]-009[2]
227-141[3]-074[2]-053[2]-052[2]-013[2]-007[2]-009[2]
227-141[3]-074[2]-053[2]-052[2]-013[2]-015[2]-009[2]
227-141[3]-074[2]-053[2]-052[2]-014[2]-007[2]-009[2]
227-141[3]-074[2]-053[2]-052[2]-030[2]-007[2]-009[2]
227-141[3]-074[2]-053[2]-052[2]-033[2]-007[2]-009[2]
227-141[3]-074[2]-053[2]-052[2]-034[2]-007[2]-009[2]
227-141[3]-074[2]-053[2]-052[2]-034[2]-043[2]-009[2]
227-141[3]-074[2]-053[2]-053[2]-013[2]-007[2]-009[2]
227-141[3]-074[2]-053[2]-053[2]-013[2]-015[2]-009[2]
227-141[3]-074[2]-053[2]-053[2]-014[2]-007[2]-009[2]
227-141[3]-074[2]-053[2]-053[2]-028[2]-007[2]-009[2]
227-141[3]-074[2]-053[2]-053[2]-028[2]-040[2]-009[2]
227-141[3]-074[2]-053[2]-053[2]-028[2]-041[2]-009[2]
227-141[3]-074[2]-053[2]-053[2]-030[2]-007[2]-009[2]
227-141[3]-074[2]-053[2]-053[2]-031[2]-007[2]-009[2]
227-141[3]-074[2]-053[2]-058[2]-014[2]-007[2]-009[2]
227-141[3]-074[2]-053[2]-058[2]-031[2]-007[2]-009[2]
227-141[3]-074[2]-053[2]-058[2]-034[2]-007[2]-009[2]
227-141[3]-074[2]-053[2]-058[2]-034[2]-043[2]-009[2]
227-141[3]-074[2]-053[2]-060[2]-013[2]-007[2]-009[2]
227-141[3]-074[2]-053[2]-060[2]-013[2]-015[2]-009[2]
227-141[3]-074[2]-053[2]-060[2]-014[2]-007[2]-009[2]
227-141[3]-074[2]-053[2]-060[2]-029[2]-007[2]-009[2]
227-141[3]-074[2]-053[2]-060[2]-030[2]-007[2]-009[2]
227-141[3]-074[2]-053[2]-060[2]-033[2]-007[2]-009[2]
227-141[3]-074[2]-062[2]-011[2]-006[2]-007[2]-009[2]
227-141[3]-074[2]-062[2]-011[2]-006[2]-008[2]-009[2]
227-141[3]-074[2]-062[2]-011[2]-014[2]-007[2]-009[2]
227-141[3]-074[2]-062[2]-014[2]-007[2]-007[2]-009[2]
227-141[3]-074[2]-062[2]-014[2]-014[2]-007[2]-009[2]
227-141[3]-074[2]-062[2]-026[2]-006[2]-007[2]-009[2]
227-141[3]-074[2]-062[2]-026[2]-006[2]-008[2]-009[2]
227-141[3]-074[2]-062[2]-026[2]-007[2]-007[2]-009[2]
227-141[3]-074[2]-062[2]-026[2]-026[2]-007[2]-009[2]
227-141[3]-074[2]-062[2]-026[2]-026[2]-036[2]-009[2]
227-141[3]-074[2]-062[2]-026[2]-029[2]-007[2]-009[2]
227-141[3]-074[2]-062[2]-026[2]-031[2]-007[2]-009[2]
227-141[3]-074[2]-062[2]-026[2]-036[2]-008[2]-009[2]
227-141[3]-074[2]-062[2]-031[2]-006[2]-007[2]-009[2]
227-141[3]-074[2]-062[2]-031[2]-006[2]-008[2]-009[2]
227-141[3]-074[2]-062[2]-031[2]-007[2]-007[2]-009[2]
227-141[3]-074[2]-062[2]-031[2]-031[2]-007[2]-009[2]
227-141[3]-074[2]-062[2]-031[2]-033[2]-007[2]-009[2]
227-141[3]-074[2]-062[2]-033[2]-007[2]-007[2]-009[2]
227-141[3]-088[2]-015[2]-009[2]-007[2]-007[2]-009[2]
227-141[3]-088[2]-015[2]-013[2]-007[2]-007[2]-009[2]
227-141[3]-088[2]-015[2]-013[2]-013[2]-007[2]-009[2]
227-141[3]-088[2]-015[2]-013[2]-013[2]-015[2]-009[2]
227-141[3]-088[2]-015[2]-013[2]-014[2]-007[2]-009[2]
227-141[3]-088[2]-015[2]-014[2]-007[2]-007[2]-009[2]
227-141[3]-088[2]-015[2]-014[2]-014[2]-007[2]-009[2]
227-141[3]-109[2]-043[2]-009[2]-007[2]-007[2]-009[2]
227-141[3]-109[2]-044[2]-008[2]-006[2]-007[2]-009[2]
227-141[3]-109[2]-044[2]-008[2]-006[2]-008[2]-009[2]
227-141[3]-109[2]-044[2]-008[2]-007[2]-007[2]-009[2]
227-141[3]-109[2]-044[2]-008[2]-008[2]-007[2]-009[2]
227-141[3]-109[2]-044[2]-008[2]-008[2]-008[2]-009[2]
227-141[3]-109[2]-044[2]-008[2]-009[2]-007[2]-009[2]
227-141[3]-109[2]-044[2]-025[2]-006[2]-007[2]-009[2]
227-141[3]-109[2]-044[2]-025[2]-006[2]-008[2]-009[2]
227-141[3]-109[2]-044[2]-025[2]-026[2]-007[2]-009[2]
227-141[3]-109[2]-044[2]-025[2]-026[2]-036[2]-009[2]
227-141[3]-109[2]-044[2]-025[2]-027[2]-007[2]-009[2]
227-141[3]-109[2]-044[2]-025[2]-027[2]-037[2]-009[2]
227-141[3]-109[2]-044[2]-025[2]-028[2]-007[2]-009[2]
227-141[3]-109[2]-044[2]-025[2]-028[2]-040[2]-009[2]
227-141[3]-109[2]-044[2]-025[2]-028[2]-041[2]-009[2]
227-141[3]-109[2]-044[2]-025[2]-035[2]-008[2]-009[2]
227-141[3]-109[2]-044[2]-025[2]-035[2]-036[2]-009[2]
227-141[3]-109[2]-044[2]-025[2]-035[2]-037[2]-009[2]
227-141[3]-109[2]-044[2]-025[2]-035[2]-045[2]-009[2]
227-141[3]-109[2]-044[2]-025[2]-035[2]-046[2]-009[2]
227-141[3]-109[2]-044[2]-025[2]-038[2]-008[2]-009[2]
227-141[3]-109[2]-044[2]-025[2]-038[2]-040[2]-009[2]
227-141[3]-109[2]-044[2]-025[2]-038[2]-046[2]-009[2]
227-141[3]-109[2]-044[2]-025[2]-039[2]-007[2]-009[2]
227-141[3]-109[2]-044[2]-025[2]-039[2]-008[2]-009[2]
227-141[3]-109[2]-044[2]-025[2]-039[2]-041[2]-009[2]
227-141[3]-109[2]-044[2]-025[2]-039[2]-045[2]-009[2]
227-141[3]-109[2]-044[2]-025[2]-039[2]-046[2]-009[2]
227-141[3]-109[2]-044[2]-025[2]-042[2]-008[2]-009[2]
227-141[3]-109[2]-044[2]-025[2]-042[2]-036[2]-009[2]
227-141[3]-109[2]-044[2]-025[2]-042[2]-037[2]-009[2]
227-141[3]-109[2]-044[2]-025[2]-042[2]-040[2]-009[2]
227-141[3]-109[2]-044[2]-025[2]-042[2]-041[2]-009[2]
227-141[3]-109[2]-044[2]-031[2]-006[2]-007[2]-009[2]
227-141[3]-109[2]-044[2]-031[2]-006[2]-008[2]-009[2]
227-141[3]-109[2]-044[2]-031[2]-007[2]-007[2]-009[2]
227-141[3]-109[2]-044[2]-031[2]-031[2]-007[2]-009[2]
227-141[3]-109[2]-044[2]-031[2]-033[2]-007[2]-009[2]
227-141[3]-109[2]-044[2]-034[2]-007[2]-007[2]-009[2]
227-141[3]-119[2]-044[2]-008[2]-006[2]-007[2]-009[2]
227-141[3]-119[2]-044[2]-008[2]-006[2]-008[2]-009[2]
227-141[3]-119[2]-044[2]-008[2]-007[2]-007[2]-009[2]
227-141[3]-119[2]-044[2]-008[2]-008[2]-007[2]-009[2]
227-141[3]-119[2]-044[2]-008[2]-008[2]-008[2]-009[2]
227-141[3]-119[2]-044[2]-008[2]-009[2]-007[2]-009[2]
227-141[3]-119[2]-044[2]-025[2]-006[2]-007[2]-009[2]
227-141[3]-119[2]-044[2]-025[2]-006[2]-008[2]-009[2]
227-141[3]-119[2]-044[2]-025[2]-026[2]-007[2]-009[2]
227-141[3]-119[2]-044[2]-025[2]-026[2]-036[2]-009[2]
227-141[3]-119[2]-044[2]-025[2]-027[2]-007[2]-009[2]
227-141[3]-119[2]-044[2]-025[2]-027[2]-037[2]-009[2]
227-141[3]-119[2]-044[2]-025[2]-028[2]-007[2]-009[2]
227-141[3]-119[2]-044[2]-025[2]-028[2]-040[2]-009[2]
227-141[3]-119[2]-044[2]-025[2]-028[2]-041[2]-009[2]
227-141[3]-119[2]-044[2]-025[2]-035[2]-008[2]-009[2]
227-141[3]-119[2]-044[2]-025[2]-035[2]-036[2]-009[2]
227-141[3]-119[2]-044[2]-025[2]-035[2]-037[2]-009[2]
227-141[3]-119[2]-044[2]-025[2]-035[2]-045[2]-009[2]
227-141[3]-119[2]-044[2]-025[2]-035[2]-046[2]-009[2]
227-141[3]-119[2]-044[2]-025[2]-038[2]-008[2]-009[2]
227-141[3]-119[2]-044[2]-025[2]-038[2]-040[2]-009[2]
227-141[3]-119[2]-044[2]-025[2]-038[2]-046[2]-009[2]
227-141[3]-119[2]-044[2]-025[2]-039[2]-007[2]-009[2]
227-141[3]-119[2]-044[2]-025[2]-039[2]-008[2]-009[2]
227-141[3]-119[2]-044[2]-025[2]-039[2]-041[2]-009[2]
227-141[3]-119[2]-044[2]-025[2]-039[2]-045[2]-009[2]
227-141[3]-119[2]-044[2]-025[2]-039[2]-046[2]-009[2]
227-141[3]-119[2]-044[2]-025[2]-042[2]-008[2]-009[2]
227-141[3]-119[2]-044[2]-025[2]-042[2]-036[2]-009[2]
227-141[3]-119[2]-044[2]-025[2]-042[2]-037[2]-009[2]
227-141[3]-119[2]-044[2]-025[2]-042[2]-040[2]-009[2]
227-141[3]-119[2]-044[2]-025[2]-042[2]-041[2]-009[2]
227-141[3]-119[2]-044[2]-031[2]-006[2]-007[2]-009[2]
227-141[3]-119[2]-044[2]-031[2]-006[2]-008[2]-009[2]
227-141[3]-119[2]-044[2]-031[2]-007[2]-007[2]-009[2]
227-141[3]-119[2]-044[2]-031[2]-031[2]-007[2]-009[2]
227-141[3]-119[2]-044[2]-031[2]-033[2]-007[2]-009[2]
227-141[3]-119[2]-044[2]-034[2]-007[2]-007[2]-009[2]
227-141[3]-119[2]-115[2]-025[2]-006[2]-007[2]-009[2]
227-141[3]-119[2]-115[2]-025[2]-006[2]-008[2]-009[2]
227-141[3]-119[2]-115[2]-025[2]-026[2]-007[2]-009[2]
227-141[3]-119[2]-115[2]-025[2]-026[2]-036[2]-009[2]
227-141[3]-119[2]-115[2]-025[2]-027[2]-007[2]-009[2]
227-141[3]-119[2]-115[2]-025[2]-027[2]-037[2]-009[2]
227-141[3]-119[2]-115[2]-025[2]-028[2]-007[2]-009[2]
227-141[3]-119[2]-115[2]-025[2]-028[2]-040[2]-009[2]
227-141[3]-119[2]-115[2]-025[2]-028[2]-041[2]-009[2]
227-141[3]-119[2]-115[2]-025[2]-035[2]-008[2]-009[2]
227-141[3]-119[2]-115[2]-025[2]-035[2]-036[2]-009[2]
227-141[3]-119[2]-115[2]-025[2]-035[2]-037[2]-009[2]
227-141[3]-119[2]-115[2]-025[2]-035[2]-045[2]-009[2]
227-141[3]-119[2]-115[2]-025[2]-035[2]-046[2]-009[2]
227-141[3]-119[2]-115[2]-025[2]-038[2]-008[2]-009[2]
227-141[3]-119[2]-115[2]-025[2]-038[2]-040[2]-009[2]
227-141[3]-119[2]-115[2]-025[2]-038[2]-046[2]-009[2]
227-141[3]-119[2]-115[2]-025[2]-039[2]-007[2]-009[2]
227-141[3]-119[2]-115[2]-025[2]-039[2]-008[2]-009[2]
227-141[3]-119[2]-115[2]-025[2]-039[2]-041[2]-009[2]
227-141[3]-119[2]-115[2]-025[2]-039[2]-045[2]-009[2]
227-141[3]-119[2]-115[2]-025[2]-039[2]-046[2]-009[2]
227-141[3]-119[2]-115[2]-025[2]-042[2]-008[2]-009[2]
227-141[3]-119[2]-115[2]-025[2]-042[2]-036[2]-009[2]
227-141[3]-119[2]-115[2]-025[2]-042[2]-037[2]-009[2]
227-141[3]-119[2]-115[2]-025[2]-042[2]-040[2]-009[2]
227-141[3]-119[2]-115[2]-025[2]-042[2]-041[2]-009[2]
227-141[3]-119[2]-115[2]-111[2]-035[2]-008[2]-009[2]
227-141[3]-119[2]-115[2]-111[2]-035[2]-036[2]-009[2]
227-141[3]-119[2]-115[2]-111[2]-035[2]-037[2]-009[2]
227-141[3]-119[2]-115[2]-111[2]-035[2]-045[2]-009[2]
227-141[3]-119[2]-115[2]-111[2]-035[2]-046[2]-009[2]
227-141[3]-119[2]-115[2]-111[2]-112[2]-037[2]-009[2]
227-141[3]-119[2]-115[2]-111[2]-120[2]-045[2]-009[2]
227-141[3]-119[2]-115[2]-113[2]-035[2]-008[2]-009[2]
227-141[3]-119[2]-115[2]-113[2]-035[2]-036[2]-009[2]
227-141[3]-119[2]-115[2]-113[2]-035[2]-037[2]-009[2]
227-141[3]-119[2]-115[2]-113[2]-035[2]-045[2]-009[2]
227-141[3]-119[2]-115[2]-113[2]-035[2]-046[2]-009[2]
227-141[3]-119[2]-115[2]-113[2]-114[2]-037[2]-009[2]
227-141[3]-119[2]-115[2]-116[2]-027[2]-007[2]-009[2]
227-141[3]-119[2]-115[2]-116[2]-027[2]-037[2]-009[2]
227-141[3]-119[2]-115[2]-116[2]-112[2]-037[2]-009[2]
227-141[3]-119[2]-115[2]-116[2]-114[2]-037[2]-009[2]
227-141[3]-119[2]-115[2]-121[2]-042[2]-008[2]-009[2]
227-141[3]-119[2]-115[2]-121[2]-042[2]-036[2]-009[2]
227-141[3]-119[2]-115[2]-121[2]-042[2]-037[2]-009[2]
227-141[3]-119[2]-115[2]-121[2]-042[2]-040[2]-009[2]
227-141[3]-119[2]-115[2]-121[2]-042[2]-041[2]-009[2]
227-141[3]-119[2]-115[2]-121[2]-112[2]-037[2]-009[2]
227-141[3]-119[2]-115[2]-121[2]-114[2]-037[2]-009[2]
227-141[3]-119[2]-118[2]-034[2]-007[2]-007[2]-009[2]
227-141[3]-122[2]-043[2]-009[2]-007[2]-007[2]-009[2]
227-166[4]-012[3]-008[2]-006[2]-007[2]-009[2]
227-166[4]-012[3]-008[2]-006[2]-008[2]-009[2]
227-166[4]-012[3]-008[2]-007[2]-007[2]-009[2]
227-166[4]-012[3]-008[2]-008[2]-007[2]-009[2]
227-166[4]-012[3]-008[2]-008[2]-008[2]-009[2]
227-166[4]-012[3]-008[2]-009[2]-007[2]-009[2]
227-166[4]-012[3]-010[2]-006[2]-007[2]-009[2]
227-166[4]-012[3]-010[2]-006[2]-008[2]-009[2]
227-166[4]-012[3]-010[2]-012[2]-008[2]-009[2]
227-166[4]-012[3]-010[2]-012[2]-015[2]-009[2]
227-166[4]-012[3]-010[2]-013[2]-007[2]-009[2]
227-166[4]-012[3]-010[2]-013[2]-015[2]-009[2]
227-166[4]-012[3]-011[2]-006[2]-007[2]-009[2]
227-166[4]-012[3]-011[2]-006[2]-008[2]-009[2]
227-166[4]-012[3]-011[2]-014[2]-007[2]-009[2]
227-166[4]-012[3]-012[2]-008[2]-007[2]-009[2]
227-166[4]-012[3]-012[2]-008[2]-008[2]-009[2]
227-166[4]-012[3]-012[2]-012[2]-008[2]-009[2]
227-166[4]-012[3]-012[2]-012[2]-015[2]-009[2]
227-166[4]-012[3]-012[2]-013[2]-007[2]-009[2]
227-166[4]-012[3]-012[2]-013[2]-015[2]-009[2]
227-166[4]-012[3]-012[2]-014[2]-007[2]-009[2]
227-166[4]-012[3]-013[2]-007[2]-007[2]-009[2]
227-166[4]-012[3]-013[2]-013[2]-007[2]-009[2]
227-166[4]-012[3]-013[2]-013[2]-015[2]-009[2]
227-166[4]-012[3]-013[2]-014[2]-007[2]-009[2]
227-166[4]-012[3]-014[2]-007[2]-007[2]-009[2]
227-166[4]-012[3]-014[2]-014[2]-007[2]-009[2]
227-166[4]-012[3]-015[2]-009[2]-007[2]-009[2]
227-166[4]-012[3]-015[2]-013[2]-007[2]-009[2]
227-166[4]-012[3]-015[2]-013[2]-015[2]-009[2]
227-166[4]-012[3]-015[2]-014[2]-007[2]-009[2]
227-166[4]-160[2]-008[3]-006[2]-007[2]-009[2]
227-166[4]-160[2]-008[3]-006[2]-008[2]-009[2]
227-166[4]-160[2]-008[3]-007[2]-007[2]-009[2]
227-166[4]-160[2]-008[3]-008[2]-007[2]-009[2]
227-166[4]-160[2]-008[3]-008[2]-008[2]-009[2]
227-166[4]-160[2]-008[3]-009[2]-007[2]-009[2]
227-166[4]-160[2]-160[2]-008[3]-007[2]-009[2]
227-166[4]-160[2]-160[2]-008[3]-008[2]-009[2]
227-166[4]-160[2]-160[2]-160[2]-008[3]-009[2]
227-166[4]-160[2]-160[2]-160[2]-161[2]-009[3]
227-166[4]-160[2]-161[2]-009[3]-007[2]-009[2]
227-166[4]-160[2]-161[2]-161[4]-009[3]
227-166[4]-160[2]-160[4]-008[3]-009[2]
227-166[4]-160[2]-160[4]-161[2]-009[3]
227-166[4]-166[2]-012[3]-008[2]-007[2]-009[2]
227-166[4]-166[2]-012[3]-008[2]-008[2]-009[2]
227-166[4]-166[2]-012[3]-012[2]-008[2]-009[2]
227-166[4]-166[2]-012[3]-012[2]-015[2]-009[2]
227-166[4]-166[2]-012[3]-013[2]-007[2]-009[2]
227-166[4]-166[2]-012[3]-013[2]-015[2]-009[2]
227-166[4]-166[2]-012[3]-014[2]-007[2]-009[2]
227-166[4]-166[2]-160[2]-008[3]-007[2]-009[2]
227-166[4]-166[2]-160[2]-008[3]-008[2]-009[2]
227-166[4]-166[2]-160[2]-160[2]-008[3]-009[2]
227-166[4]-166[2]-160[2]-160[2]-161[2]-009[3]
227-166[4]-166[2]-166[2]-012[3]-008[2]-009[2]
227-166[4]-166[2]-166[2]-012[3]-015[2]-009[2]
227-166[4]-166[2]-166[2]-160[2]-008[3]-009[2]
227-166[4]-166[2]-166[2]-160[2]-161[2]-009[3]
227-166[4]-166[2]-166[2]-167[2]-015[3]-009[2]
227-166[4]-166[2]-166[2]-167[2]-161[2]-009[3]
227-166[4]-167[2]-015[3]-009[2]-007[2]-009[2]
227-166[4]-167[2]-015[3]-013[2]-007[2]-009[2]
227-166[4]-167[2]-015[3]-013[2]-015[2]-009[2]
227-166[4]-167[2]-015[3]-014[2]-007[2]-009[2]
227-166[4]-167[2]-161[2]-009[3]-007[2]-009[2]
227-166[4]-167[2]-161[2]-161[4]-009[3]
227-166[4]-167[2]-167[4]-015[3]-009[2]
227-166[4]-167[2]-167[4]-161[2]-009[3]
227-166[4]-166[4]-012[3]-008[2]-009[2]
227-166[4]-166[4]-012[3]-015[2]-009[2]
227-166[4]-166[4]-160[2]-008[3]-009[2]
227-166[4]-166[4]-160[2]-161[2]-009[3]
227-166[4]-166[4]-167[2]-015[3]-009[2]
227-166[4]-166[4]-167[2]-161[2]-009[3]
227-203[2]-070[3]-015[2]-009[2]-007[2]-007[2]-009[2]
227-203[2]-070[3]-015[2]-013[2]-007[2]-007[2]-009[2]
227-203[2]-070[3]-015[2]-013[2]-013[2]-007[2]-009[2]
227-203[2]-070[3]-015[2]-013[2]-013[2]-015[2]-009[2]
227-203[2]-070[3]-015[2]-013[2]-014[2]-007[2]-009[2]
227-203[2]-070[3]-015[2]-014[2]-007[2]-007[2]-009[2]
227-203[2]-070[3]-015[2]-014[2]-014[2]-007[2]-009[2]
227-203[2]-070[3]-043[2]-009[2]-007[2]-007[2]-009[2]
227-216[2]-119[3]-044[2]-008[2]-006[2]-007[2]-009[2]
227-216[2]-119[3]-044[2]-008[2]-006[2]-008[2]-009[2]
227-216[2]-119[3]-044[2]-008[2]-007[2]-007[2]-009[2]
227-216[2]-119[3]-044[2]-008[2]-008[2]-007[2]-009[2]
227-216[2]-119[3]-044[2]-008[2]-008[2]-008[2]-009[2]
227-216[2]-119[3]-044[2]-008[2]-009[2]-007[2]-009[2]
227-216[2]-119[3]-044[2]-025[2]-006[2]-007[2]-009[2]
227-216[2]-119[3]-044[2]-025[2]-006[2]-008[2]-009[2]
227-216[2]-119[3]-044[2]-025[2]-026[2]-007[2]-009[2]
227-216[2]-119[3]-044[2]-025[2]-026[2]-036[2]-009[2]
227-216[2]-119[3]-044[2]-025[2]-027[2]-007[2]-009[2]
227-216[2]-119[3]-044[2]-025[2]-027[2]-037[2]-009[2]
227-216[2]-119[3]-044[2]-025[2]-028[2]-007[2]-009[2]
227-216[2]-119[3]-044[2]-025[2]-028[2]-040[2]-009[2]
227-216[2]-119[3]-044[2]-025[2]-028[2]-041[2]-009[2]
227-216[2]-119[3]-044[2]-025[2]-035[2]-008[2]-009[2]
227-216[2]-119[3]-044[2]-025[2]-035[2]-036[2]-009[2]
227-216[2]-119[3]-044[2]-025[2]-035[2]-037[2]-009[2]
227-216[2]-119[3]-044[2]-025[2]-035[2]-045[2]-009[2]
227-216[2]-119[3]-044[2]-025[2]-035[2]-046[2]-009[2]
227-216[2]-119[3]-044[2]-025[2]-038[2]-008[2]-009[2]
227-216[2]-119[3]-044[2]-025[2]-038[2]-040[2]-009[2]
227-216[2]-119[3]-044[2]-025[2]-038[2]-046[2]-009[2]
227-216[2]-119[3]-044[2]-025[2]-039[2]-007[2]-009[2]
227-216[2]-119[3]-044[2]-025[2]-039[2]-008[2]-009[2]
227-216[2]-119[3]-044[2]-025[2]-039[2]-041[2]-009[2]
227-216[2]-119[3]-044[2]-025[2]-039[2]-045[2]-009[2]
227-216[2]-119[3]-044[2]-025[2]-039[2]-046[2]-009[2]
227-216[2]-119[3]-044[2]-025[2]-042[2]-008[2]-009[2]
227-216[2]-119[3]-044[2]-025[2]-042[2]-036[2]-009[2]
227-216[2]-119[3]-044[2]-025[2]-042[2]-037[2]-009[2]
227-216[2]-119[3]-044[2]-025[2]-042[2]-040[2]-009[2]
227-216[2]-119[3]-044[2]-025[2]-042[2]-041[2]-009[2]
227-216[2]-119[3]-044[2]-031[2]-006[2]-007[2]-009[2]
227-216[2]-119[3]-044[2]-031[2]-006[2]-008[2]-009[2]
227-216[2]-119[3]-044[2]-031[2]-007[2]-007[2]-009[2]
227-216[2]-119[3]-044[2]-031[2]-031[2]-007[2]-009[2]
227-216[2]-119[3]-044[2]-031[2]-033[2]-007[2]-009[2]
227-216[2]-119[3]-044[2]-034[2]-007[2]-007[2]-009[2]
227-216[2]-119[3]-115[2]-025[2]-006[2]-007[2]-009[2]
227-216[2]-119[3]-115[2]-025[2]-006[2]-008[2]-009[2]
227-216[2]-119[3]-115[2]-025[2]-026[2]-007[2]-009[2]
227-216[2]-119[3]-115[2]-025[2]-026[2]-036[2]-009[2]
227-216[2]-119[3]-115[2]-025[2]-027[2]-007[2]-009[2]
227-216[2]-119[3]-115[2]-025[2]-027[2]-037[2]-009[2]
227-216[2]-119[3]-115[2]-025[2]-028[2]-007[2]-009[2]
227-216[2]-119[3]-115[2]-025[2]-028[2]-040[2]-009[2]
227-216[2]-119[3]-115[2]-025[2]-028[2]-041[2]-009[2]
227-216[2]-119[3]-115[2]-025[2]-035[2]-008[2]-009[2]
227-216[2]-119[3]-115[2]-025[2]-035[2]-036[2]-009[2]
227-216[2]-119[3]-115[2]-025[2]-035[2]-037[2]-009[2]
227-216[2]-119[3]-115[2]-025[2]-035[2]-045[2]-009[2]
227-216[2]-119[3]-115[2]-025[2]-035[2]-046[2]-009[2]
227-216[2]-119[3]-115[2]-025[2]-038[2]-008[2]-009[2]
227-216[2]-119[3]-115[2]-025[2]-038[2]-040[2]-009[2]
227-216[2]-119[3]-115[2]-025[2]-038[2]-046[2]-009[2]
227-216[2]-119[3]-115[2]-025[2]-039[2]-007[2]-009[2]
227-216[2]-119[3]-115[2]-025[2]-039[2]-008[2]-009[2]
227-216[2]-119[3]-115[2]-025[2]-039[2]-041[2]-009[2]
227-216[2]-119[3]-115[2]-025[2]-039[2]-045[2]-009[2]
227-216[2]-119[3]-115[2]-025[2]-039[2]-046[2]-009[2]
227-216[2]-119[3]-115[2]-025[2]-042[2]-008[2]-009[2]
227-216[2]-119[3]-115[2]-025[2]-042[2]-036[2]-009[2]
227-216[2]-119[3]-115[2]-025[2]-042[2]-037[2]-009[2]
227-216[2]-119[3]-115[2]-025[2]-042[2]-040[2]-009[2]
227-216[2]-119[3]-115[2]-025[2]-042[2]-041[2]-009[2]
227-216[2]-119[3]-115[2]-111[2]-035[2]-008[2]-009[2]
227-216[2]-119[3]-115[2]-111[2]-035[2]-036[2]-009[2]
227-216[2]-119[3]-115[2]-111[2]-035[2]-037[2]-009[2]
227-216[2]-119[3]-115[2]-111[2]-035[2]-045[2]-009[2]
227-216[2]-119[3]-115[2]-111[2]-035[2]-046[2]-009[2]
227-216[2]-119[3]-115[2]-111[2]-112[2]-037[2]-009[2]
227-216[2]-119[3]-115[2]-111[2]-120[2]-045[2]-009[2]
227-216[2]-119[3]-115[2]-113[2]-035[2]-008[2]-009[2]
227-216[2]-119[3]-115[2]-113[2]-035[2]-036[2]-009[2]
227-216[2]-119[3]-115[2]-113[2]-035[2]-037[2]-009[2]
227-216[2]-119[3]-115[2]-113[2]-035[2]-045[2]-009[2]
227-216[2]-119[3]-115[2]-113[2]-035[2]-046[2]-009[2]
227-216[2]-119[3]-115[2]-113[2]-114[2]-037[2]-009[2]
227-216[2]-119[3]-115[2]-116[2]-027[2]-007[2]-009[2]
227-216[2]-119[3]-115[2]-116[2]-027[2]-037[2]-009[2]
227-216[2]-119[3]-115[2]-116[2]-112[2]-037[2]-009[2]
227-216[2]-119[3]-115[2]-116[2]-114[2]-037[2]-009[2]
227-216[2]-119[3]-115[2]-121[2]-042[2]-008[2]-009[2]
227-216[2]-119[3]-115[2]-121[2]-042[2]-036[2]-009[2]
227-216[2]-119[3]-115[2]-121[2]-042[2]-037[2]-009[2]
227-216[2]-119[3]-115[2]-121[2]-042[2]-040[2]-009[2]
227-216[2]-119[3]-115[2]-121[2]-042[2]-041[2]-009[2]
227-216[2]-119[3]-115[2]-121[2]-112[2]-037[2]-009[2]
227-216[2]-119[3]-115[2]-121[2]-114[2]-037[2]-009[2]
227-216[2]-119[3]-118[2]-034[2]-007[2]-007[2]-009[2]
227-216[2]-160[4]-008[3]-006[2]-007[2]-009[2]
227-216[2]-160[4]-008[3]-006[2]-008[2]-009[2]
227-216[2]-160[4]-008[3]-007[2]-007[2]-009[2]
227-216[2]-160[4]-008[3]-008[2]-007[2]-009[2]
227-216[2]-160[4]-008[3]-008[2]-008[2]-009[2]
227-216[2]-160[4]-008[3]-009[2]-007[2]-009[2]
227-216[2]-160[4]-160[2]-008[3]-007[2]-009[2]
227-216[2]-160[4]-160[2]-008[3]-008[2]-009[2]
227-216[2]-160[4]-160[2]-160[2]-008[3]-009[2]
227-216[2]-160[4]-160[2]-160[2]-161[2]-009[3]
227-216[2]-160[4]-161[2]-009[3]-007[2]-009[2]
227-216[2]-160[4]-161[2]-161[4]-009[3]
227-216[2]-160[4]-160[4]-008[3]-009[2]
227-216[2]-160[4]-160[4]-161[2]-009[3]
227-216[2]-215[4]-111[3]-035[2]-008[2]-009[2]
227-216[2]-215[4]-111[3]-035[2]-036[2]-009[2]
227-216[2]-215[4]-111[3]-035[2]-037[2]-009[2]
227-216[2]-215[4]-111[3]-035[2]-045[2]-009[2]
227-216[2]-215[4]-111[3]-035[2]-046[2]-009[2]
227-216[2]-215[4]-111[3]-112[2]-037[2]-009[2]
227-216[2]-215[4]-111[3]-120[2]-045[2]-009[2]
227-216[2]-215[4]-160[4]-008[3]-009[2]
227-216[2]-215[4]-160[4]-161[2]-009[3]
227-216[2]-215[4]-219[2]-120[3]-045[2]-009[2]
227-216[2]-215[4]-219[2]-161[4]-009[3]