October 7, 2009 Posted by Emre S. Tasci
Nature has a very nice section called the Futures in where they publish very short (1 page at most) science fiction stories.
I started writing stories long before I started writing scientific articles and had this story of mine, "The Most Beautiful Sun of Our Earth" written some 9 years ago (in Turkish). Last week, the idea to re-write/revise it in English and submit it to the Futures occurred to me, so on an insomniatic night (or whatever is the correct English term), I sat down in front of the word processor and pulled it out.
The original story had me and -my then girlfriend- Bengü as the protagonists but I felt that it would be too selfish so, I "borrowed" my dear friend (my battalion as we call it), Andy and his girlfriend Serene for the part. The following day I asked Andy's permission for the inclusion and also his help to edit this English version of the story, which he kindly accepted.
At the end, I submitted the story to Nature and from the tone of this entry most probably you'll think that it was accepted for publication and hoorraay and all that but no, yesterday, I got a reply stating that, it wasn't accepted and that's it.
The good thing coming out of this is that, Andy actually liked the story very much and this story being one of my favorite SF stories, I'm really happy for it. So, if you're still interested, you can get a copy of it, completely free from any possible obligations to Nature publishing were it to have been otherwise.. 8)
Emre S. Tasci – "The Most Beautiful Sun of Our Earth"
March 23, 2009 Posted by Emre S. Tasci
Now that I've started to once again updating this scientific blog of mine, let me also talk about the things that occured since the last entry on October (or even going before that).
Meeting with Dr. Villars
The biggest event that occured to me was meeting with Dr. Pierre Villars, the person behind the Pauling File database which I have benefitted and still benefitting from. When I had registered to the "MITS 2008 – International Symposium on Materials Database", an event hosted by the NIMS Materials Database, I had no idea that Dr. Villars would also be attending to the event, so it was a real surprise learning afterwards that I'd have a chance to meet him in person.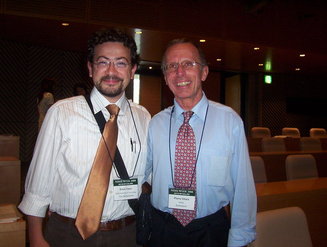 You can read the sheer happiness from my face on the occasion of meeting Dr. Villars
Dr. Villars is a very kind and a cheerful person, I had a greatest time knowing him and afterwards I had the privilege of visiting him in his home office in the lovely town of Vitznau, Switzerland where I enjoyed the excellent hospitality of the Villars family. Dr. Villars helped me generously in providing the data in my research project for finding transformation toughening materials through datamining which I'm indebted for.
The MITS 2008 – Int'l Symposium on Materials Database
I was frequently using the databases on the NIMS' website and had the honour to participate in the last year's event together with my dear supervisor Dr. Marcel Sluiter. On that occasion, I presented two talks – a materials based one, and another about database query&retrieval methods- titled "Inference from Various Material Properties Using Mutual Information and Clustering Methods" and "Proposal of the XML Specification as a Standard for Materials Database Query and Result Retrieval", respectively.
I have an ever growing interest on the Japanese Culture since I was a youngster and due to this interest, my expectations from this trip to Japan was high enough for me to be afraid of the fact that I may have disappointed since it was next-to-impossible for anything to fulfill the expectations I had built upon. But, amazingly, I was proved false: the experience I had in Japan were far more superior to anything I had anticipated. The hospitality of the organizing commitee was incredible: everything had been taken care of and everyone was as kind as one could be. I had the chance to meet Dr. Villars as I've already wrote about above, and also Dr. Xu, Dr. Vanderah, Dr. Dayal and Dr. Sims and had a great time. It was also due to this meeting, I met a dear friend.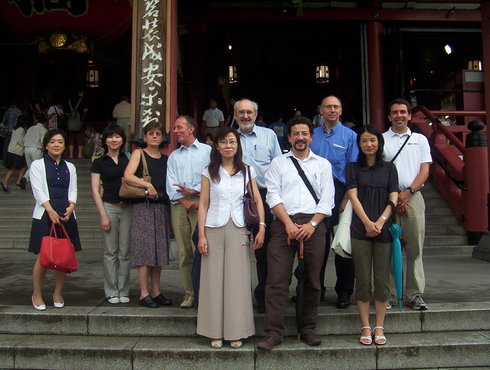 Ongoing Projects
During my time here, I still don't have anything published and that's the number one issue that's bothering me. Apart from my research on the transformation toughening materials, I worked for a time on a question regarding to a related phenomenon, namely about the martensitic transformation mechanism on some transition-metal alloy types. We were able to come up with a nice equation and adequate coefficients that caught the calculation results but couldn't manage to transfer it to -so to say- a nicely put theory and that doomed the research to being an "ad-hoc" approach. I'll be returning to it at the first chance I get, so currently, it's been put on ice (and now remembering how, in the heat of the research I was afraid that someone else would come up with the formula and it would be too late for me.. sad, so sad..). One other (side) project was related to approximate a specific amorphous state in regards with some basis structures obtained using datamining. This project was really exciting and fun to work on because I got to use different methods together: first some datamining, then DFT calculations on the obtained structures and finally thermodynamics to extrapolate to higher temperatures. We're at the stage of revising the draft at the moment (gratefully!).
Life in the Netherlands & at the TUDelft
It has been almost one and a half year since I started my postdoc here in TUDelft. When we first came here, my daughter was still hadn't started speaking (yet she had been practicing walking) and now she approximately spent the same amount of time in the Netherlands as she had spent in Turkey (and thankfully, she can speak and also running to everywhere! 8).
When I had come here, I was a nano-physicist, experienced in MD simulations and -independently- a coder when the need arouse. Now, I'm more of a materials guy and coding for the purpose.. 8) I enjoy the wide variety of the jobs & disciplines people around me are working on and definitely benefitting from the works of my friends in our group. I couldn't ask for more, really. (OK, maybe I'd agree if somebody would come up with an idea for less windy and more sunny weather here in Delft. That's the one thing I couldn't still get used to. Delft is a marvelous city with bikes and kind people everywhere, canals full of lillies in the spring, historical buildings everywhere, Amsterdam, Den Haag and Rotterdam just a couple of train stations away and if you wish, Antwerpen, Brussels and Brugges (Belgium) is your next-door neighbour but this dark and closed weather can sometimes be a little mood lowering.) TUDelft is really a wonderful place to be with all the resources and connections that makes you feel you can learn anything and meet anyone that is relevant to the work you're doing without worrying about the cost. And you're being kept informed about the events taking place about you through the frequent meetings in your group, in your section, in your department, in your field. I've learned a lot and I'm really happy I was accepted here.
(And just when you think I was out of photos!.. 8)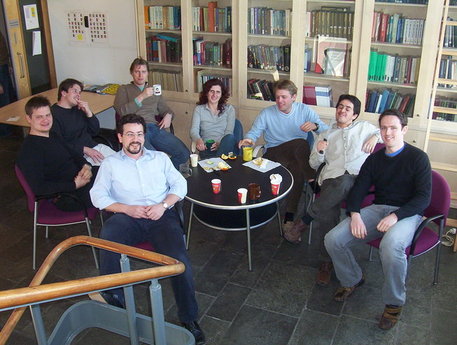 So that's about the things I've enjoyed experiencing and living through.. And I promise, I'll be posting more regularly and frequently from now on..
Yours the chatty.
November 29, 2007 Posted by Emre S. Tasci
Yesterday, I received great news from my dear former supervisor, Prof. Erkoç, that my Generation and Simulations of Nanostructures of Cage Structures titled Ph.D. thesis has been selected as one of the thesis of the year by METU Mustafa Parlar Foundation, the most distinctive and prestigious award a METU thesis can receive!
I would like to express my gratitude to Prof. Erkoç, all my friends and the physics department for the great days I've enjoyed for the seven years I was in METU. I will always cherish the memories… I hope, here in my new home S&C/MSE@TUDelft, I will live up to the expectations.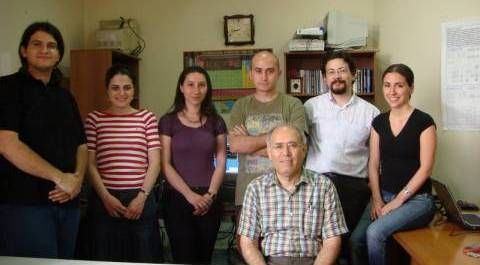 With Prof. Şakir Erkoç sitting in the front row, rest of our team is (from left to right):
O.Barış Malcıoğlu, Hande Üstünel, E. Deniz Çalışır Tekin, Nazım Dugan, Emre S. Taşcı, Rengin Peköz