June 6, 2011 Posted by Emre S. Tasci
Having a personal wiki has its pros and cons with the pros being obvious but, on the other hand, one doesn't feel like reposting what he has already committed into the corresponding wikipedia entry (and since reposting means filtering out the sensitive information and generalizing it, it is double the effort). So this fact, more or less, explains my absence of activity in this blog for the last 1.5 years. But then, there is one negative aspect of personal wikipedia "blogging" – it's like putting everything under the rug : you classify the data/information and then you forget that it is there. That's when "actual" blogging (like this one) comes handy. So, sorry & welcome back..
Today, I'll present a code that I've just written to parse out the compatible paths from a tree. In my case, the three is the list of subgroups with indexes that one can acquire using Bilbao Crystallographic Server's marvelous SUBGROUPGRAPH tool. For low indexes, you can already have SUBGROUPGRAPH do this for you by specifying your supergroup G, subgroup H and the index [G:H]. For example, for G=136, H=14 and [G:H] = 8, you can have the following paths drawn: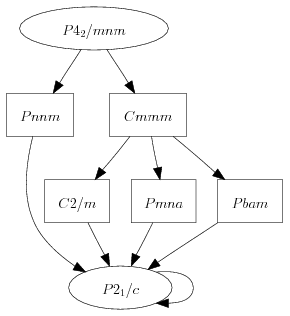 But as I said, things can get rough when you have a high index. In that case, we can (and we will) try to parse and analyze the paths tree which is outputted by SUBGROUPGRAPH when no index is designated, e.g., for G=136, H=14: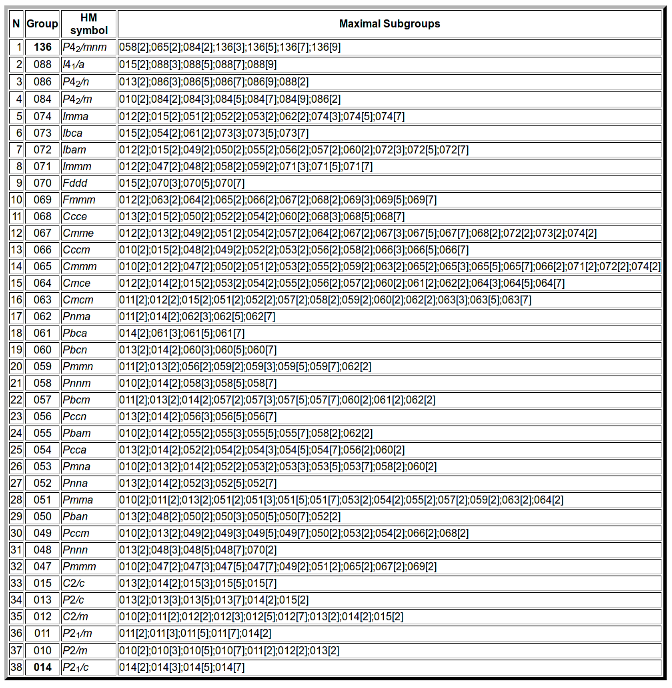 Where you see the maximal subgroups for the involved groups and their corresponding indexes. So, to go from P4_2/mnm (#136) to P2_1/c (#14) with index 8, we can follow the path:
P4_2/mnm (#136) –[2]–> Cmmm (#65) –[2]–> Pmna (#53) –[2]–> P2_1/c (#14)
with the related indexes given in the brackets totaling to 2x2x2 = 8.
The problem I had today was to find possible paths going from G=Fd-3m (#227) to H=Cc (#9) with index [G:H] = 192.
I first parsed the subgroup list into an array with their indexes, then followed the possible paths.
<?PHP
/* Emre S. Tasci <exxx.txxxx@ehu.es>                    *
 * By parsing the possible subgroup paths obtained from 
 * SUBGROUPGRAPH, finds the paths that are compatible 
 * with the given terminal super & sub groups and the 
 * designated index.
 *
 *                                              06/06/11 */

# Input Data === 0 ====================================================
$start_sup = 227;
$crit_index = 192;
$end_sub = 9;

$arr = file("data.txt"); # A sample of data.txt for the case of #227->#9
                         # is included at the end of the code.

# Input Data === 1 ====================================================

$arr_subs = Array();
$arr_labels = Array();
foreach($arr as $line)
{
    $auxarr = preg_split("/[ \t]+/",trim($line));
    #echo $auxarr[2]."\n";
    $sup = $auxarr[1];
    $suplabel = $auxarr[2];
    $arrsubs = split(";",$auxarr[3]);
    $arr_labels[$sup] = $suplabel;
    foreach($arrsubs as $subind)
    {
        $auxarr2 = Array();
        preg_match("/([0-9]+)\[([0-9]+)\]/",$subind,$auxarr2);
        #print_r($auxarr2);
        $sub = $auxarr2[1];
        $index = $auxarr2[2];
        $arr_subs[$sup][$index][] = $sub;
    }
}
#print_r($arr_subs);

# Start exploring
$start_sup = sprintf("%03d",$start_sup);
$end_sub = sprintf("%03d",$end_sub);
$arr_paths = Array();
$arr_paths[$start_sup] = 1;

findpath($start_sup);

function findpath($current_sup)
{
    global $arr_paths,$arr_subs,$crit_index,$end_sub;
    #echo "*".$current_sup."*\n";
    if(strrpos($current_sup,"-") !== FALSE)
    {
        $current_sup_last_sup = substr($current_sup,strrpos($current_sup,"-")+1);
        $current_sup_last_sup = substr($current_sup_last_sup,0,strpos($current_sup_last_sup,"["));
    }
        
    else
        $current_sup_last_sup = $current_sup;
    #echo "*".$current_sup_last_sup."*\n";
    $subindexes = array_keys($arr_subs[$current_sup_last_sup]);
    foreach($subindexes as $subindex)
    {
        $subs = $arr_subs[$current_sup_last_sup][$subindex];
        echo $subindex.": ".join(",",$subs)."\n";
        foreach($subs as $sub)
        {
            echo $current_sup."-".$sub."[".$subindex."]"."\n";
            $arr_paths[$current_sup."-".$sub."[".$subindex."]"] = $arr_paths[$current_sup] * $subindex;
            if($arr_paths[$current_sup."-".$sub."[".$subindex."]"]<$crit_index)
                findpath($current_sup."-".$sub."[".$subindex."]");
            elseif($arr_paths[$current_sup."-".$sub."[".$subindex."]"] == $crit_index && $sub == $end_sub)
                echo "\nPath Found: ".$current_sup."-".$sub."[".$subindex."]"."\n\n";
        }
    }
    #print_r($subindexes);
}
print_r($arr_paths);

/*
    data.txt:
1   227   Fd-3m   141[3];166[4];203[2];216[2]
2   220   I-43d   122[3];161[4]
3   219   F-43c   120[3];161[4];218[4]
4   218   P-43n   112[3];161[4];220[4]
5   217   I-43m   121[3];160[4];215[2];218[2]
6   216   F-43m   119[3];160[4];215[4]
7   215   P-43m   111[3];160[4];216[2];217[4];219[2]
8   203   Fd-3   070[3]
9   167   R-3c   015[3];161[2];165[3];167[4];167[5];167[7]
10   166   R-3m   012[3];160[2];164[3];166[2];166[4];166[5];166[7];167[2]
11   165   P-3c1   015[3];158[2];163[3];165[3];165[4];165[5];165[7]
12   164   P-3m1   012[3];156[2];162[3];164[2];164[3];164[4];164[5];164[7];165[2]
13   163   P-31c   015[3];159[2];163[3];163[4];163[5];163[7];165[3];167[3]
14   162   P-31m   012[3];157[2];162[2];162[3];162[4];162[5];162[7];163[2];164[3];166[3]
15   161   R3c   009[3];158[3];161[4];161[5];161[7]
16   160   R3m   008[3];156[3];160[2];160[4];160[5];160[7];161[2]
17   159   P31c   009[3];158[3];159[3];159[4];159[5];159[7];161[3]
18   158   P3c1   009[3];158[3];158[4];158[5];158[7];159[3]
19   157   P31m   008[3];156[3];157[2];157[3];157[4];157[5];157[7];159[2];160[3]
20   156   P3m1   008[3];156[2];156[3];156[4];156[5];156[7];157[3];158[2]
21   141   I41/amd   070[2];074[2];088[2];109[2];119[2];122[2];141[3];141[5];141[7];141[9]
22   122   I-42d   043[2];122[3];122[5];122[7];122[9]
23   121   I-42m   042[2];111[2];112[2];113[2];114[2];121[3];121[5];121[7];121[9]
24   120   I-4c2   045[2];116[2];117[2];120[3];120[5];120[7];120[9]
25   119   I-4m2   044[2];115[2];118[2];119[3];119[5];119[7];119[9]
26   118   P-4n2   034[2];118[3];118[5];118[7];118[9];122[2]
27   117   P-4b2   032[2];117[2];117[3];117[5];117[7];117[9];118[2]
28   116   P-4c2   027[2];112[2];114[2];116[3];116[5];116[7];116[9]
29   115   P-4m2   025[2];111[2];113[2];115[2];115[3];115[5];115[7];115[9];116[2];121[2]
30   114   P-421c   037[2];114[3];114[5];114[7];114[9]
31   113   P-421m   035[2];113[2];113[3];113[5];113[7];113[9];114[2]
32   112   P-42c   037[2];112[3];112[5];112[7];112[9];116[2];118[2]
33   111   P-42m   035[2];111[2];111[3];111[5];111[7];111[9];112[2];115[2];117[2];119[2];120[2]
34   109   I41md   043[2];044[2];109[3];109[5];109[7];109[9]
35   088   I41/a   015[2];088[3];088[5];088[7];088[9]
36   074   Imma   012[2];015[2];044[2];046[2];051[2];052[2];053[2];062[2];074[3];074[5];074[7]
37   070   Fddd   015[2];043[2];070[3];070[5];070[7]
38   064   Cmce   012[2];014[2];015[2];036[2];039[2];041[2];053[2];054[2];055[2];056[2];057[2];060[2];061[2];062[2];064[3];064[5];064[7]
39   063   Cmcm   011[2];012[2];015[2];036[2];038[2];040[2];051[2];052[2];057[2];058[2];059[2];060[2];062[2];063[3];063[5];063[7]
40   062   Pnma   011[2];014[2];026[2];031[2];033[2];062[3];062[5];062[7]
41   061   Pbca   014[2];029[2];061[3];061[5];061[7]
42   060   Pbcn   013[2];014[2];029[2];030[2];033[2];060[3];060[5];060[7]
43   059   Pmmn   011[2];013[2];025[2];031[2];056[2];059[2];059[3];059[5];059[7];062[2]
44   058   Pnnm   010[2];014[2];031[2];034[2];058[3];058[5];058[7]
45   057   Pbcm   011[2];013[2];014[2];026[2];028[2];029[2];057[2];057[3];057[5];057[7];060[2];061[2];062[2]
46   056   Pccn   013[2];014[2];027[2];033[2];056[3];056[5];056[7]
47   055   Pbam   010[2];014[2];026[2];032[2];055[2];055[3];055[5];055[7];058[2];062[2]
48   054   Pcca   013[2];014[2];027[2];029[2];032[2];052[2];054[2];054[3];054[5];054[7];056[2];060[2]
49   053   Pmna   010[2];013[2];014[2];028[2];030[2];031[2];052[2];053[2];053[3];053[5];053[7];058[2];060[2]
50   052   Pnna   013[2];014[2];030[2];033[2];034[2];052[3];052[5];052[7]
51   051   Pmma   010[2];011[2];013[2];025[2];026[2];028[2];051[2];051[3];051[5];051[7];053[2];054[2];055[2];057[2];059[2];063[2];064[2]
52   046   Ima2   008[2];009[2];026[2];028[2];030[2];033[2];046[3];046[5];046[7]
53   045   Iba2   009[2];027[2];029[2];032[2];045[3];045[5];045[7]
54   044   Imm2   008[2];025[2];031[2];034[2];044[3];044[5];044[7]
55   043   Fdd2   009[2];043[3];043[5];043[7]
56   042   Fmm2   008[2];035[2];036[2];037[2];038[2];039[2];040[2];041[2];042[3];042[5];042[7]
57   041   Aea2   007[2];009[2];029[2];030[2];032[2];033[2];041[3];041[5];041[7]
58   040   Ama2   006[2];009[2];028[2];031[2];033[2];034[2];040[3];040[5];040[7]
59   039   Aem2   007[2];008[2];026[2];027[2];028[2];029[2];039[2];039[3];039[5];039[7];041[2];045[2];046[2]
60   038   Amm2   006[2];008[2];025[2];026[2];030[2];031[2];038[2];038[3];038[5];038[7];040[2];044[2];046[2]
61   037   Ccc2   009[2];027[2];030[2];034[2];037[3];037[5];037[7]
62   036   Cmc21   008[2];009[2];026[2];029[2];031[2];033[2];036[3];036[5];036[7]
63   035   Cmm2   008[2];025[2];028[2];032[2];035[2];035[3];035[5];035[7];036[2];037[2];044[2];045[2];046[2]
64   034   Pnn2   007[2];034[3];034[5];034[7];043[2]
65   033   Pna21   007[2];033[3];033[5];033[7]
66   032   Pba2   007[2];032[2];032[3];032[5];032[7];033[2];034[2]
67   031   Pmn21   006[2];007[2];031[2];031[3];031[5];031[7];033[2]
68   030   Pnc2   007[2];030[2];030[3];030[5];030[7];034[2]
69   029   Pca21   007[2];029[2];029[3];029[5];029[7];033[2]
70   028   Pma2   006[2];007[2];028[2];028[3];028[5];028[7];029[2];030[2];031[2];032[2];040[2];041[2]
71   027   Pcc2   007[2];027[2];027[3];027[5];027[7];030[2];037[2]
72   026   Pmc21   006[2];007[2];026[2];026[3];026[5];026[7];029[2];031[2];036[2]
73   025   Pmm2   006[2];025[2];025[3];025[5];025[7];026[2];027[2];028[2];035[2];038[2];039[2];042[2]
74   015   C2/c   009[2];013[2];014[2];015[3];015[5];015[7]
75   014   P21/c   007[2];014[2];014[3];014[5];014[7]
76   013   P2/c   007[2];013[2];013[3];013[5];013[7];014[2];015[2]
77   012   C2/m   008[2];010[2];011[2];012[2];012[3];012[5];012[7];013[2];014[2];015[2]
78   011   P21/m   006[2];011[2];011[3];011[5];011[7];014[2]
79   010   P2/m   006[2];010[2];010[3];010[5];010[7];011[2];012[2];013[2]
80   008   Cm   006[2];007[2];008[2];008[3];008[5];008[7];009[2]
81   007   Pc   007[2];007[3];007[5];007[7];009[2]
82   006   Pm   006[2];006[3];006[5];006[7];007[2];008[2]
83   009   Cc   007[2];009[3];009[5];009[7]
 */

When run, the code lists all the paths with the matching ones preceded by "Path Found", so if you grep wrt it, you'll have, for this example:


sururi@husniya:/xxx$ php find_trpath_for_index.php |grep Path|sed "s:Path Found\: ::"
227-141[3]-070[2]-015[2]-009[2]-007[2]-007[2]-009[2]
227-141[3]-070[2]-015[2]-013[2]-007[2]-007[2]-009[2]
227-141[3]-070[2]-015[2]-013[2]-013[2]-007[2]-009[2]
227-141[3]-070[2]-015[2]-013[2]-013[2]-015[2]-009[2]
227-141[3]-070[2]-015[2]-013[2]-014[2]-007[2]-009[2]
227-141[3]-070[2]-015[2]-014[2]-007[2]-007[2]-009[2]
227-141[3]-070[2]-015[2]-014[2]-014[2]-007[2]-009[2]
227-141[3]-070[2]-043[2]-009[2]-007[2]-007[2]-009[2]
227-141[3]-074[2]-012[2]-008[2]-006[2]-007[2]-009[2]
227-141[3]-074[2]-012[2]-008[2]-006[2]-008[2]-009[2]
227-141[3]-074[2]-012[2]-008[2]-007[2]-007[2]-009[2]
227-141[3]-074[2]-012[2]-008[2]-008[2]-007[2]-009[2]
227-141[3]-074[2]-012[2]-008[2]-008[2]-008[2]-009[2]
227-141[3]-074[2]-012[2]-008[2]-009[2]-007[2]-009[2]
227-141[3]-074[2]-012[2]-010[2]-006[2]-007[2]-009[2]
227-141[3]-074[2]-012[2]-010[2]-006[2]-008[2]-009[2]
227-141[3]-074[2]-012[2]-010[2]-012[2]-008[2]-009[2]
227-141[3]-074[2]-012[2]-010[2]-012[2]-015[2]-009[2]
227-141[3]-074[2]-012[2]-010[2]-013[2]-007[2]-009[2]
227-141[3]-074[2]-012[2]-010[2]-013[2]-015[2]-009[2]
227-141[3]-074[2]-012[2]-011[2]-006[2]-007[2]-009[2]
227-141[3]-074[2]-012[2]-011[2]-006[2]-008[2]-009[2]
227-141[3]-074[2]-012[2]-011[2]-014[2]-007[2]-009[2]
227-141[3]-074[2]-012[2]-012[2]-008[2]-007[2]-009[2]
227-141[3]-074[2]-012[2]-012[2]-008[2]-008[2]-009[2]
227-141[3]-074[2]-012[2]-012[2]-012[2]-008[2]-009[2]
227-141[3]-074[2]-012[2]-012[2]-012[2]-015[2]-009[2]
227-141[3]-074[2]-012[2]-012[2]-013[2]-007[2]-009[2]
227-141[3]-074[2]-012[2]-012[2]-013[2]-015[2]-009[2]
227-141[3]-074[2]-012[2]-012[2]-014[2]-007[2]-009[2]
227-141[3]-074[2]-012[2]-013[2]-007[2]-007[2]-009[2]
227-141[3]-074[2]-012[2]-013[2]-013[2]-007[2]-009[2]
227-141[3]-074[2]-012[2]-013[2]-013[2]-015[2]-009[2]
227-141[3]-074[2]-012[2]-013[2]-014[2]-007[2]-009[2]
227-141[3]-074[2]-012[2]-014[2]-007[2]-007[2]-009[2]
227-141[3]-074[2]-012[2]-014[2]-014[2]-007[2]-009[2]
227-141[3]-074[2]-012[2]-015[2]-009[2]-007[2]-009[2]
227-141[3]-074[2]-012[2]-015[2]-013[2]-007[2]-009[2]
227-141[3]-074[2]-012[2]-015[2]-013[2]-015[2]-009[2]
227-141[3]-074[2]-012[2]-015[2]-014[2]-007[2]-009[2]
227-141[3]-074[2]-015[2]-009[2]-007[2]-007[2]-009[2]
227-141[3]-074[2]-015[2]-013[2]-007[2]-007[2]-009[2]
227-141[3]-074[2]-015[2]-013[2]-013[2]-007[2]-009[2]
227-141[3]-074[2]-015[2]-013[2]-013[2]-015[2]-009[2]
227-141[3]-074[2]-015[2]-013[2]-014[2]-007[2]-009[2]
227-141[3]-074[2]-015[2]-014[2]-007[2]-007[2]-009[2]
227-141[3]-074[2]-015[2]-014[2]-014[2]-007[2]-009[2]
227-141[3]-074[2]-044[2]-008[2]-006[2]-007[2]-009[2]
227-141[3]-074[2]-044[2]-008[2]-006[2]-008[2]-009[2]
227-141[3]-074[2]-044[2]-008[2]-007[2]-007[2]-009[2]
227-141[3]-074[2]-044[2]-008[2]-008[2]-007[2]-009[2]
227-141[3]-074[2]-044[2]-008[2]-008[2]-008[2]-009[2]
227-141[3]-074[2]-044[2]-008[2]-009[2]-007[2]-009[2]
227-141[3]-074[2]-044[2]-025[2]-006[2]-007[2]-009[2]
227-141[3]-074[2]-044[2]-025[2]-006[2]-008[2]-009[2]
227-141[3]-074[2]-044[2]-025[2]-026[2]-007[2]-009[2]
227-141[3]-074[2]-044[2]-025[2]-026[2]-036[2]-009[2]
227-141[3]-074[2]-044[2]-025[2]-027[2]-007[2]-009[2]
227-141[3]-074[2]-044[2]-025[2]-027[2]-037[2]-009[2]
227-141[3]-074[2]-044[2]-025[2]-028[2]-007[2]-009[2]
227-141[3]-074[2]-044[2]-025[2]-028[2]-040[2]-009[2]
227-141[3]-074[2]-044[2]-025[2]-028[2]-041[2]-009[2]
227-141[3]-074[2]-044[2]-025[2]-035[2]-008[2]-009[2]
227-141[3]-074[2]-044[2]-025[2]-035[2]-036[2]-009[2]
227-141[3]-074[2]-044[2]-025[2]-035[2]-037[2]-009[2]
227-141[3]-074[2]-044[2]-025[2]-035[2]-045[2]-009[2]
227-141[3]-074[2]-044[2]-025[2]-035[2]-046[2]-009[2]
227-141[3]-074[2]-044[2]-025[2]-038[2]-008[2]-009[2]
227-141[3]-074[2]-044[2]-025[2]-038[2]-040[2]-009[2]
227-141[3]-074[2]-044[2]-025[2]-038[2]-046[2]-009[2]
227-141[3]-074[2]-044[2]-025[2]-039[2]-007[2]-009[2]
227-141[3]-074[2]-044[2]-025[2]-039[2]-008[2]-009[2]
227-141[3]-074[2]-044[2]-025[2]-039[2]-041[2]-009[2]
227-141[3]-074[2]-044[2]-025[2]-039[2]-045[2]-009[2]
227-141[3]-074[2]-044[2]-025[2]-039[2]-046[2]-009[2]
227-141[3]-074[2]-044[2]-025[2]-042[2]-008[2]-009[2]
227-141[3]-074[2]-044[2]-025[2]-042[2]-036[2]-009[2]
227-141[3]-074[2]-044[2]-025[2]-042[2]-037[2]-009[2]
227-141[3]-074[2]-044[2]-025[2]-042[2]-040[2]-009[2]
227-141[3]-074[2]-044[2]-025[2]-042[2]-041[2]-009[2]
227-141[3]-074[2]-044[2]-031[2]-006[2]-007[2]-009[2]
227-141[3]-074[2]-044[2]-031[2]-006[2]-008[2]-009[2]
227-141[3]-074[2]-044[2]-031[2]-007[2]-007[2]-009[2]
227-141[3]-074[2]-044[2]-031[2]-031[2]-007[2]-009[2]
227-141[3]-074[2]-044[2]-031[2]-033[2]-007[2]-009[2]
227-141[3]-074[2]-044[2]-034[2]-007[2]-007[2]-009[2]
227-141[3]-074[2]-046[2]-008[2]-006[2]-007[2]-009[2]
227-141[3]-074[2]-046[2]-008[2]-006[2]-008[2]-009[2]
227-141[3]-074[2]-046[2]-008[2]-007[2]-007[2]-009[2]
227-141[3]-074[2]-046[2]-008[2]-008[2]-007[2]-009[2]
227-141[3]-074[2]-046[2]-008[2]-008[2]-008[2]-009[2]
227-141[3]-074[2]-046[2]-008[2]-009[2]-007[2]-009[2]
227-141[3]-074[2]-046[2]-009[2]-007[2]-007[2]-009[2]
227-141[3]-074[2]-046[2]-026[2]-006[2]-007[2]-009[2]
227-141[3]-074[2]-046[2]-026[2]-006[2]-008[2]-009[2]
227-141[3]-074[2]-046[2]-026[2]-007[2]-007[2]-009[2]
227-141[3]-074[2]-046[2]-026[2]-026[2]-007[2]-009[2]
227-141[3]-074[2]-046[2]-026[2]-026[2]-036[2]-009[2]
227-141[3]-074[2]-046[2]-026[2]-029[2]-007[2]-009[2]
227-141[3]-074[2]-046[2]-026[2]-031[2]-007[2]-009[2]
227-141[3]-074[2]-046[2]-026[2]-036[2]-008[2]-009[2]
227-141[3]-074[2]-046[2]-028[2]-006[2]-007[2]-009[2]
227-141[3]-074[2]-046[2]-028[2]-006[2]-008[2]-009[2]
227-141[3]-074[2]-046[2]-028[2]-007[2]-007[2]-009[2]
227-141[3]-074[2]-046[2]-028[2]-028[2]-007[2]-009[2]
227-141[3]-074[2]-046[2]-028[2]-028[2]-040[2]-009[2]
227-141[3]-074[2]-046[2]-028[2]-028[2]-041[2]-009[2]
227-141[3]-074[2]-046[2]-028[2]-029[2]-007[2]-009[2]
227-141[3]-074[2]-046[2]-028[2]-030[2]-007[2]-009[2]
227-141[3]-074[2]-046[2]-028[2]-031[2]-007[2]-009[2]
227-141[3]-074[2]-046[2]-028[2]-032[2]-007[2]-009[2]
227-141[3]-074[2]-046[2]-028[2]-041[2]-007[2]-009[2]
227-141[3]-074[2]-046[2]-030[2]-007[2]-007[2]-009[2]
227-141[3]-074[2]-046[2]-030[2]-030[2]-007[2]-009[2]
227-141[3]-074[2]-046[2]-030[2]-034[2]-007[2]-009[2]
227-141[3]-074[2]-046[2]-030[2]-034[2]-043[2]-009[2]
227-141[3]-074[2]-046[2]-033[2]-007[2]-007[2]-009[2]
227-141[3]-074[2]-051[2]-010[2]-006[2]-007[2]-009[2]
227-141[3]-074[2]-051[2]-010[2]-006[2]-008[2]-009[2]
227-141[3]-074[2]-051[2]-010[2]-012[2]-008[2]-009[2]
227-141[3]-074[2]-051[2]-010[2]-012[2]-015[2]-009[2]
227-141[3]-074[2]-051[2]-010[2]-013[2]-007[2]-009[2]
227-141[3]-074[2]-051[2]-010[2]-013[2]-015[2]-009[2]
227-141[3]-074[2]-051[2]-011[2]-006[2]-007[2]-009[2]
227-141[3]-074[2]-051[2]-011[2]-006[2]-008[2]-009[2]
227-141[3]-074[2]-051[2]-011[2]-014[2]-007[2]-009[2]
227-141[3]-074[2]-051[2]-013[2]-007[2]-007[2]-009[2]
227-141[3]-074[2]-051[2]-013[2]-013[2]-007[2]-009[2]
227-141[3]-074[2]-051[2]-013[2]-013[2]-015[2]-009[2]
227-141[3]-074[2]-051[2]-013[2]-014[2]-007[2]-009[2]
227-141[3]-074[2]-051[2]-025[2]-006[2]-007[2]-009[2]
227-141[3]-074[2]-051[2]-025[2]-006[2]-008[2]-009[2]
227-141[3]-074[2]-051[2]-025[2]-026[2]-007[2]-009[2]
227-141[3]-074[2]-051[2]-025[2]-026[2]-036[2]-009[2]
227-141[3]-074[2]-051[2]-025[2]-027[2]-007[2]-009[2]
227-141[3]-074[2]-051[2]-025[2]-027[2]-037[2]-009[2]
227-141[3]-074[2]-051[2]-025[2]-028[2]-007[2]-009[2]
227-141[3]-074[2]-051[2]-025[2]-028[2]-040[2]-009[2]
227-141[3]-074[2]-051[2]-025[2]-028[2]-041[2]-009[2]
227-141[3]-074[2]-051[2]-025[2]-035[2]-008[2]-009[2]
227-141[3]-074[2]-051[2]-025[2]-035[2]-036[2]-009[2]
227-141[3]-074[2]-051[2]-025[2]-035[2]-037[2]-009[2]
227-141[3]-074[2]-051[2]-025[2]-035[2]-045[2]-009[2]
227-141[3]-074[2]-051[2]-025[2]-035[2]-046[2]-009[2]
227-141[3]-074[2]-051[2]-025[2]-038[2]-008[2]-009[2]
227-141[3]-074[2]-051[2]-025[2]-038[2]-040[2]-009[2]
227-141[3]-074[2]-051[2]-025[2]-038[2]-046[2]-009[2]
227-141[3]-074[2]-051[2]-025[2]-039[2]-007[2]-009[2]
227-141[3]-074[2]-051[2]-025[2]-039[2]-008[2]-009[2]
227-141[3]-074[2]-051[2]-025[2]-039[2]-041[2]-009[2]
227-141[3]-074[2]-051[2]-025[2]-039[2]-045[2]-009[2]
227-141[3]-074[2]-051[2]-025[2]-039[2]-046[2]-009[2]
227-141[3]-074[2]-051[2]-025[2]-042[2]-008[2]-009[2]
227-141[3]-074[2]-051[2]-025[2]-042[2]-036[2]-009[2]
227-141[3]-074[2]-051[2]-025[2]-042[2]-037[2]-009[2]
227-141[3]-074[2]-051[2]-025[2]-042[2]-040[2]-009[2]
227-141[3]-074[2]-051[2]-025[2]-042[2]-041[2]-009[2]
227-141[3]-074[2]-051[2]-026[2]-006[2]-007[2]-009[2]
227-141[3]-074[2]-051[2]-026[2]-006[2]-008[2]-009[2]
227-141[3]-074[2]-051[2]-026[2]-007[2]-007[2]-009[2]
227-141[3]-074[2]-051[2]-026[2]-026[2]-007[2]-009[2]
227-141[3]-074[2]-051[2]-026[2]-026[2]-036[2]-009[2]
227-141[3]-074[2]-051[2]-026[2]-029[2]-007[2]-009[2]
227-141[3]-074[2]-051[2]-026[2]-031[2]-007[2]-009[2]
227-141[3]-074[2]-051[2]-026[2]-036[2]-008[2]-009[2]
227-141[3]-074[2]-051[2]-028[2]-006[2]-007[2]-009[2]
227-141[3]-074[2]-051[2]-028[2]-006[2]-008[2]-009[2]
227-141[3]-074[2]-051[2]-028[2]-007[2]-007[2]-009[2]
227-141[3]-074[2]-051[2]-028[2]-028[2]-007[2]-009[2]
227-141[3]-074[2]-051[2]-028[2]-028[2]-040[2]-009[2]
227-141[3]-074[2]-051[2]-028[2]-028[2]-041[2]-009[2]
227-141[3]-074[2]-051[2]-028[2]-029[2]-007[2]-009[2]
227-141[3]-074[2]-051[2]-028[2]-030[2]-007[2]-009[2]
227-141[3]-074[2]-051[2]-028[2]-031[2]-007[2]-009[2]
227-141[3]-074[2]-051[2]-028[2]-032[2]-007[2]-009[2]
227-141[3]-074[2]-051[2]-028[2]-041[2]-007[2]-009[2]
227-141[3]-074[2]-051[2]-051[2]-013[2]-007[2]-009[2]
227-141[3]-074[2]-051[2]-051[2]-013[2]-015[2]-009[2]
227-141[3]-074[2]-051[2]-051[2]-026[2]-007[2]-009[2]
227-141[3]-074[2]-051[2]-051[2]-026[2]-036[2]-009[2]
227-141[3]-074[2]-051[2]-051[2]-028[2]-007[2]-009[2]
227-141[3]-074[2]-051[2]-051[2]-028[2]-040[2]-009[2]
227-141[3]-074[2]-051[2]-051[2]-028[2]-041[2]-009[2]
227-141[3]-074[2]-051[2]-051[2]-063[2]-015[2]-009[2]
227-141[3]-074[2]-051[2]-051[2]-063[2]-036[2]-009[2]
227-141[3]-074[2]-051[2]-051[2]-063[2]-040[2]-009[2]
227-141[3]-074[2]-051[2]-051[2]-064[2]-015[2]-009[2]
227-141[3]-074[2]-051[2]-051[2]-064[2]-036[2]-009[2]
227-141[3]-074[2]-051[2]-051[2]-064[2]-041[2]-009[2]
227-141[3]-074[2]-051[2]-053[2]-013[2]-007[2]-009[2]
227-141[3]-074[2]-051[2]-053[2]-013[2]-015[2]-009[2]
227-141[3]-074[2]-051[2]-053[2]-014[2]-007[2]-009[2]
227-141[3]-074[2]-051[2]-053[2]-028[2]-007[2]-009[2]
227-141[3]-074[2]-051[2]-053[2]-028[2]-040[2]-009[2]
227-141[3]-074[2]-051[2]-053[2]-028[2]-041[2]-009[2]
227-141[3]-074[2]-051[2]-053[2]-030[2]-007[2]-009[2]
227-141[3]-074[2]-051[2]-053[2]-031[2]-007[2]-009[2]
227-141[3]-074[2]-051[2]-054[2]-013[2]-007[2]-009[2]
227-141[3]-074[2]-051[2]-054[2]-013[2]-015[2]-009[2]
227-141[3]-074[2]-051[2]-054[2]-014[2]-007[2]-009[2]
227-141[3]-074[2]-051[2]-054[2]-027[2]-007[2]-009[2]
227-141[3]-074[2]-051[2]-054[2]-027[2]-037[2]-009[2]
227-141[3]-074[2]-051[2]-054[2]-029[2]-007[2]-009[2]
227-141[3]-074[2]-051[2]-054[2]-032[2]-007[2]-009[2]
227-141[3]-074[2]-051[2]-055[2]-014[2]-007[2]-009[2]
227-141[3]-074[2]-051[2]-055[2]-026[2]-007[2]-009[2]
227-141[3]-074[2]-051[2]-055[2]-026[2]-036[2]-009[2]
227-141[3]-074[2]-051[2]-055[2]-032[2]-007[2]-009[2]
227-141[3]-074[2]-051[2]-057[2]-013[2]-007[2]-009[2]
227-141[3]-074[2]-051[2]-057[2]-013[2]-015[2]-009[2]
227-141[3]-074[2]-051[2]-057[2]-014[2]-007[2]-009[2]
227-141[3]-074[2]-051[2]-057[2]-026[2]-007[2]-009[2]
227-141[3]-074[2]-051[2]-057[2]-026[2]-036[2]-009[2]
227-141[3]-074[2]-051[2]-057[2]-028[2]-007[2]-009[2]
227-141[3]-074[2]-051[2]-057[2]-028[2]-040[2]-009[2]
227-141[3]-074[2]-051[2]-057[2]-028[2]-041[2]-009[2]
227-141[3]-074[2]-051[2]-057[2]-029[2]-007[2]-009[2]
227-141[3]-074[2]-051[2]-059[2]-013[2]-007[2]-009[2]
227-141[3]-074[2]-051[2]-059[2]-013[2]-015[2]-009[2]
227-141[3]-074[2]-051[2]-059[2]-031[2]-007[2]-009[2]
227-141[3]-074[2]-051[2]-063[2]-012[2]-008[2]-009[2]
227-141[3]-074[2]-051[2]-063[2]-012[2]-015[2]-009[2]
227-141[3]-074[2]-051[2]-063[2]-036[2]-008[2]-009[2]
227-141[3]-074[2]-051[2]-063[2]-038[2]-008[2]-009[2]
227-141[3]-074[2]-051[2]-063[2]-038[2]-040[2]-009[2]
227-141[3]-074[2]-051[2]-063[2]-038[2]-046[2]-009[2]
227-141[3]-074[2]-051[2]-064[2]-012[2]-008[2]-009[2]
227-141[3]-074[2]-051[2]-064[2]-012[2]-015[2]-009[2]
227-141[3]-074[2]-051[2]-064[2]-014[2]-007[2]-009[2]
227-141[3]-074[2]-051[2]-064[2]-036[2]-008[2]-009[2]
227-141[3]-074[2]-051[2]-064[2]-039[2]-007[2]-009[2]
227-141[3]-074[2]-051[2]-064[2]-039[2]-008[2]-009[2]
227-141[3]-074[2]-051[2]-064[2]-039[2]-041[2]-009[2]
227-141[3]-074[2]-051[2]-064[2]-039[2]-045[2]-009[2]
227-141[3]-074[2]-051[2]-064[2]-039[2]-046[2]-009[2]
227-141[3]-074[2]-051[2]-064[2]-041[2]-007[2]-009[2]
227-141[3]-074[2]-052[2]-013[2]-007[2]-007[2]-009[2]
227-141[3]-074[2]-052[2]-013[2]-013[2]-007[2]-009[2]
227-141[3]-074[2]-052[2]-013[2]-013[2]-015[2]-009[2]
227-141[3]-074[2]-052[2]-013[2]-014[2]-007[2]-009[2]
227-141[3]-074[2]-052[2]-014[2]-007[2]-007[2]-009[2]
227-141[3]-074[2]-052[2]-014[2]-014[2]-007[2]-009[2]
227-141[3]-074[2]-052[2]-030[2]-007[2]-007[2]-009[2]
227-141[3]-074[2]-052[2]-030[2]-030[2]-007[2]-009[2]
227-141[3]-074[2]-052[2]-030[2]-034[2]-007[2]-009[2]
227-141[3]-074[2]-052[2]-030[2]-034[2]-043[2]-009[2]
227-141[3]-074[2]-052[2]-033[2]-007[2]-007[2]-009[2]
227-141[3]-074[2]-052[2]-034[2]-007[2]-007[2]-009[2]
227-141[3]-074[2]-053[2]-010[2]-006[2]-007[2]-009[2]
227-141[3]-074[2]-053[2]-010[2]-006[2]-008[2]-009[2]
227-141[3]-074[2]-053[2]-010[2]-012[2]-008[2]-009[2]
227-141[3]-074[2]-053[2]-010[2]-012[2]-015[2]-009[2]
227-141[3]-074[2]-053[2]-010[2]-013[2]-007[2]-009[2]
227-141[3]-074[2]-053[2]-010[2]-013[2]-015[2]-009[2]
227-141[3]-074[2]-053[2]-013[2]-007[2]-007[2]-009[2]
227-141[3]-074[2]-053[2]-013[2]-013[2]-007[2]-009[2]
227-141[3]-074[2]-053[2]-013[2]-013[2]-015[2]-009[2]
227-141[3]-074[2]-053[2]-013[2]-014[2]-007[2]-009[2]
227-141[3]-074[2]-053[2]-014[2]-007[2]-007[2]-009[2]
227-141[3]-074[2]-053[2]-014[2]-014[2]-007[2]-009[2]
227-141[3]-074[2]-053[2]-028[2]-006[2]-007[2]-009[2]
227-141[3]-074[2]-053[2]-028[2]-006[2]-008[2]-009[2]
227-141[3]-074[2]-053[2]-028[2]-007[2]-007[2]-009[2]
227-141[3]-074[2]-053[2]-028[2]-028[2]-007[2]-009[2]
227-141[3]-074[2]-053[2]-028[2]-028[2]-040[2]-009[2]
227-141[3]-074[2]-053[2]-028[2]-028[2]-041[2]-009[2]
227-141[3]-074[2]-053[2]-028[2]-029[2]-007[2]-009[2]
227-141[3]-074[2]-053[2]-028[2]-030[2]-007[2]-009[2]
227-141[3]-074[2]-053[2]-028[2]-031[2]-007[2]-009[2]
227-141[3]-074[2]-053[2]-028[2]-032[2]-007[2]-009[2]
227-141[3]-074[2]-053[2]-028[2]-041[2]-007[2]-009[2]
227-141[3]-074[2]-053[2]-030[2]-007[2]-007[2]-009[2]
227-141[3]-074[2]-053[2]-030[2]-030[2]-007[2]-009[2]
227-141[3]-074[2]-053[2]-030[2]-034[2]-007[2]-009[2]
227-141[3]-074[2]-053[2]-030[2]-034[2]-043[2]-009[2]
227-141[3]-074[2]-053[2]-031[2]-006[2]-007[2]-009[2]
227-141[3]-074[2]-053[2]-031[2]-006[2]-008[2]-009[2]
227-141[3]-074[2]-053[2]-031[2]-007[2]-007[2]-009[2]
227-141[3]-074[2]-053[2]-031[2]-031[2]-007[2]-009[2]
227-141[3]-074[2]-053[2]-031[2]-033[2]-007[2]-009[2]
227-141[3]-074[2]-053[2]-052[2]-013[2]-007[2]-009[2]
227-141[3]-074[2]-053[2]-052[2]-013[2]-015[2]-009[2]
227-141[3]-074[2]-053[2]-052[2]-014[2]-007[2]-009[2]
227-141[3]-074[2]-053[2]-052[2]-030[2]-007[2]-009[2]
227-141[3]-074[2]-053[2]-052[2]-033[2]-007[2]-009[2]
227-141[3]-074[2]-053[2]-052[2]-034[2]-007[2]-009[2]
227-141[3]-074[2]-053[2]-052[2]-034[2]-043[2]-009[2]
227-141[3]-074[2]-053[2]-053[2]-013[2]-007[2]-009[2]
227-141[3]-074[2]-053[2]-053[2]-013[2]-015[2]-009[2]
227-141[3]-074[2]-053[2]-053[2]-014[2]-007[2]-009[2]
227-141[3]-074[2]-053[2]-053[2]-028[2]-007[2]-009[2]
227-141[3]-074[2]-053[2]-053[2]-028[2]-040[2]-009[2]
227-141[3]-074[2]-053[2]-053[2]-028[2]-041[2]-009[2]
227-141[3]-074[2]-053[2]-053[2]-030[2]-007[2]-009[2]
227-141[3]-074[2]-053[2]-053[2]-031[2]-007[2]-009[2]
227-141[3]-074[2]-053[2]-058[2]-014[2]-007[2]-009[2]
227-141[3]-074[2]-053[2]-058[2]-031[2]-007[2]-009[2]
227-141[3]-074[2]-053[2]-058[2]-034[2]-007[2]-009[2]
227-141[3]-074[2]-053[2]-058[2]-034[2]-043[2]-009[2]
227-141[3]-074[2]-053[2]-060[2]-013[2]-007[2]-009[2]
227-141[3]-074[2]-053[2]-060[2]-013[2]-015[2]-009[2]
227-141[3]-074[2]-053[2]-060[2]-014[2]-007[2]-009[2]
227-141[3]-074[2]-053[2]-060[2]-029[2]-007[2]-009[2]
227-141[3]-074[2]-053[2]-060[2]-030[2]-007[2]-009[2]
227-141[3]-074[2]-053[2]-060[2]-033[2]-007[2]-009[2]
227-141[3]-074[2]-062[2]-011[2]-006[2]-007[2]-009[2]
227-141[3]-074[2]-062[2]-011[2]-006[2]-008[2]-009[2]
227-141[3]-074[2]-062[2]-011[2]-014[2]-007[2]-009[2]
227-141[3]-074[2]-062[2]-014[2]-007[2]-007[2]-009[2]
227-141[3]-074[2]-062[2]-014[2]-014[2]-007[2]-009[2]
227-141[3]-074[2]-062[2]-026[2]-006[2]-007[2]-009[2]
227-141[3]-074[2]-062[2]-026[2]-006[2]-008[2]-009[2]
227-141[3]-074[2]-062[2]-026[2]-007[2]-007[2]-009[2]
227-141[3]-074[2]-062[2]-026[2]-026[2]-007[2]-009[2]
227-141[3]-074[2]-062[2]-026[2]-026[2]-036[2]-009[2]
227-141[3]-074[2]-062[2]-026[2]-029[2]-007[2]-009[2]
227-141[3]-074[2]-062[2]-026[2]-031[2]-007[2]-009[2]
227-141[3]-074[2]-062[2]-026[2]-036[2]-008[2]-009[2]
227-141[3]-074[2]-062[2]-031[2]-006[2]-007[2]-009[2]
227-141[3]-074[2]-062[2]-031[2]-006[2]-008[2]-009[2]
227-141[3]-074[2]-062[2]-031[2]-007[2]-007[2]-009[2]
227-141[3]-074[2]-062[2]-031[2]-031[2]-007[2]-009[2]
227-141[3]-074[2]-062[2]-031[2]-033[2]-007[2]-009[2]
227-141[3]-074[2]-062[2]-033[2]-007[2]-007[2]-009[2]
227-141[3]-088[2]-015[2]-009[2]-007[2]-007[2]-009[2]
227-141[3]-088[2]-015[2]-013[2]-007[2]-007[2]-009[2]
227-141[3]-088[2]-015[2]-013[2]-013[2]-007[2]-009[2]
227-141[3]-088[2]-015[2]-013[2]-013[2]-015[2]-009[2]
227-141[3]-088[2]-015[2]-013[2]-014[2]-007[2]-009[2]
227-141[3]-088[2]-015[2]-014[2]-007[2]-007[2]-009[2]
227-141[3]-088[2]-015[2]-014[2]-014[2]-007[2]-009[2]
227-141[3]-109[2]-043[2]-009[2]-007[2]-007[2]-009[2]
227-141[3]-109[2]-044[2]-008[2]-006[2]-007[2]-009[2]
227-141[3]-109[2]-044[2]-008[2]-006[2]-008[2]-009[2]
227-141[3]-109[2]-044[2]-008[2]-007[2]-007[2]-009[2]
227-141[3]-109[2]-044[2]-008[2]-008[2]-007[2]-009[2]
227-141[3]-109[2]-044[2]-008[2]-008[2]-008[2]-009[2]
227-141[3]-109[2]-044[2]-008[2]-009[2]-007[2]-009[2]
227-141[3]-109[2]-044[2]-025[2]-006[2]-007[2]-009[2]
227-141[3]-109[2]-044[2]-025[2]-006[2]-008[2]-009[2]
227-141[3]-109[2]-044[2]-025[2]-026[2]-007[2]-009[2]
227-141[3]-109[2]-044[2]-025[2]-026[2]-036[2]-009[2]
227-141[3]-109[2]-044[2]-025[2]-027[2]-007[2]-009[2]
227-141[3]-109[2]-044[2]-025[2]-027[2]-037[2]-009[2]
227-141[3]-109[2]-044[2]-025[2]-028[2]-007[2]-009[2]
227-141[3]-109[2]-044[2]-025[2]-028[2]-040[2]-009[2]
227-141[3]-109[2]-044[2]-025[2]-028[2]-041[2]-009[2]
227-141[3]-109[2]-044[2]-025[2]-035[2]-008[2]-009[2]
227-141[3]-109[2]-044[2]-025[2]-035[2]-036[2]-009[2]
227-141[3]-109[2]-044[2]-025[2]-035[2]-037[2]-009[2]
227-141[3]-109[2]-044[2]-025[2]-035[2]-045[2]-009[2]
227-141[3]-109[2]-044[2]-025[2]-035[2]-046[2]-009[2]
227-141[3]-109[2]-044[2]-025[2]-038[2]-008[2]-009[2]
227-141[3]-109[2]-044[2]-025[2]-038[2]-040[2]-009[2]
227-141[3]-109[2]-044[2]-025[2]-038[2]-046[2]-009[2]
227-141[3]-109[2]-044[2]-025[2]-039[2]-007[2]-009[2]
227-141[3]-109[2]-044[2]-025[2]-039[2]-008[2]-009[2]
227-141[3]-109[2]-044[2]-025[2]-039[2]-041[2]-009[2]
227-141[3]-109[2]-044[2]-025[2]-039[2]-045[2]-009[2]
227-141[3]-109[2]-044[2]-025[2]-039[2]-046[2]-009[2]
227-141[3]-109[2]-044[2]-025[2]-042[2]-008[2]-009[2]
227-141[3]-109[2]-044[2]-025[2]-042[2]-036[2]-009[2]
227-141[3]-109[2]-044[2]-025[2]-042[2]-037[2]-009[2]
227-141[3]-109[2]-044[2]-025[2]-042[2]-040[2]-009[2]
227-141[3]-109[2]-044[2]-025[2]-042[2]-041[2]-009[2]
227-141[3]-109[2]-044[2]-031[2]-006[2]-007[2]-009[2]
227-141[3]-109[2]-044[2]-031[2]-006[2]-008[2]-009[2]
227-141[3]-109[2]-044[2]-031[2]-007[2]-007[2]-009[2]
227-141[3]-109[2]-044[2]-031[2]-031[2]-007[2]-009[2]
227-141[3]-109[2]-044[2]-031[2]-033[2]-007[2]-009[2]
227-141[3]-109[2]-044[2]-034[2]-007[2]-007[2]-009[2]
227-141[3]-119[2]-044[2]-008[2]-006[2]-007[2]-009[2]
227-141[3]-119[2]-044[2]-008[2]-006[2]-008[2]-009[2]
227-141[3]-119[2]-044[2]-008[2]-007[2]-007[2]-009[2]
227-141[3]-119[2]-044[2]-008[2]-008[2]-007[2]-009[2]
227-141[3]-119[2]-044[2]-008[2]-008[2]-008[2]-009[2]
227-141[3]-119[2]-044[2]-008[2]-009[2]-007[2]-009[2]
227-141[3]-119[2]-044[2]-025[2]-006[2]-007[2]-009[2]
227-141[3]-119[2]-044[2]-025[2]-006[2]-008[2]-009[2]
227-141[3]-119[2]-044[2]-025[2]-026[2]-007[2]-009[2]
227-141[3]-119[2]-044[2]-025[2]-026[2]-036[2]-009[2]
227-141[3]-119[2]-044[2]-025[2]-027[2]-007[2]-009[2]
227-141[3]-119[2]-044[2]-025[2]-027[2]-037[2]-009[2]
227-141[3]-119[2]-044[2]-025[2]-028[2]-007[2]-009[2]
227-141[3]-119[2]-044[2]-025[2]-028[2]-040[2]-009[2]
227-141[3]-119[2]-044[2]-025[2]-028[2]-041[2]-009[2]
227-141[3]-119[2]-044[2]-025[2]-035[2]-008[2]-009[2]
227-141[3]-119[2]-044[2]-025[2]-035[2]-036[2]-009[2]
227-141[3]-119[2]-044[2]-025[2]-035[2]-037[2]-009[2]
227-141[3]-119[2]-044[2]-025[2]-035[2]-045[2]-009[2]
227-141[3]-119[2]-044[2]-025[2]-035[2]-046[2]-009[2]
227-141[3]-119[2]-044[2]-025[2]-038[2]-008[2]-009[2]
227-141[3]-119[2]-044[2]-025[2]-038[2]-040[2]-009[2]
227-141[3]-119[2]-044[2]-025[2]-038[2]-046[2]-009[2]
227-141[3]-119[2]-044[2]-025[2]-039[2]-007[2]-009[2]
227-141[3]-119[2]-044[2]-025[2]-039[2]-008[2]-009[2]
227-141[3]-119[2]-044[2]-025[2]-039[2]-041[2]-009[2]
227-141[3]-119[2]-044[2]-025[2]-039[2]-045[2]-009[2]
227-141[3]-119[2]-044[2]-025[2]-039[2]-046[2]-009[2]
227-141[3]-119[2]-044[2]-025[2]-042[2]-008[2]-009[2]
227-141[3]-119[2]-044[2]-025[2]-042[2]-036[2]-009[2]
227-141[3]-119[2]-044[2]-025[2]-042[2]-037[2]-009[2]
227-141[3]-119[2]-044[2]-025[2]-042[2]-040[2]-009[2]
227-141[3]-119[2]-044[2]-025[2]-042[2]-041[2]-009[2]
227-141[3]-119[2]-044[2]-031[2]-006[2]-007[2]-009[2]
227-141[3]-119[2]-044[2]-031[2]-006[2]-008[2]-009[2]
227-141[3]-119[2]-044[2]-031[2]-007[2]-007[2]-009[2]
227-141[3]-119[2]-044[2]-031[2]-031[2]-007[2]-009[2]
227-141[3]-119[2]-044[2]-031[2]-033[2]-007[2]-009[2]
227-141[3]-119[2]-044[2]-034[2]-007[2]-007[2]-009[2]
227-141[3]-119[2]-115[2]-025[2]-006[2]-007[2]-009[2]
227-141[3]-119[2]-115[2]-025[2]-006[2]-008[2]-009[2]
227-141[3]-119[2]-115[2]-025[2]-026[2]-007[2]-009[2]
227-141[3]-119[2]-115[2]-025[2]-026[2]-036[2]-009[2]
227-141[3]-119[2]-115[2]-025[2]-027[2]-007[2]-009[2]
227-141[3]-119[2]-115[2]-025[2]-027[2]-037[2]-009[2]
227-141[3]-119[2]-115[2]-025[2]-028[2]-007[2]-009[2]
227-141[3]-119[2]-115[2]-025[2]-028[2]-040[2]-009[2]
227-141[3]-119[2]-115[2]-025[2]-028[2]-041[2]-009[2]
227-141[3]-119[2]-115[2]-025[2]-035[2]-008[2]-009[2]
227-141[3]-119[2]-115[2]-025[2]-035[2]-036[2]-009[2]
227-141[3]-119[2]-115[2]-025[2]-035[2]-037[2]-009[2]
227-141[3]-119[2]-115[2]-025[2]-035[2]-045[2]-009[2]
227-141[3]-119[2]-115[2]-025[2]-035[2]-046[2]-009[2]
227-141[3]-119[2]-115[2]-025[2]-038[2]-008[2]-009[2]
227-141[3]-119[2]-115[2]-025[2]-038[2]-040[2]-009[2]
227-141[3]-119[2]-115[2]-025[2]-038[2]-046[2]-009[2]
227-141[3]-119[2]-115[2]-025[2]-039[2]-007[2]-009[2]
227-141[3]-119[2]-115[2]-025[2]-039[2]-008[2]-009[2]
227-141[3]-119[2]-115[2]-025[2]-039[2]-041[2]-009[2]
227-141[3]-119[2]-115[2]-025[2]-039[2]-045[2]-009[2]
227-141[3]-119[2]-115[2]-025[2]-039[2]-046[2]-009[2]
227-141[3]-119[2]-115[2]-025[2]-042[2]-008[2]-009[2]
227-141[3]-119[2]-115[2]-025[2]-042[2]-036[2]-009[2]
227-141[3]-119[2]-115[2]-025[2]-042[2]-037[2]-009[2]
227-141[3]-119[2]-115[2]-025[2]-042[2]-040[2]-009[2]
227-141[3]-119[2]-115[2]-025[2]-042[2]-041[2]-009[2]
227-141[3]-119[2]-115[2]-111[2]-035[2]-008[2]-009[2]
227-141[3]-119[2]-115[2]-111[2]-035[2]-036[2]-009[2]
227-141[3]-119[2]-115[2]-111[2]-035[2]-037[2]-009[2]
227-141[3]-119[2]-115[2]-111[2]-035[2]-045[2]-009[2]
227-141[3]-119[2]-115[2]-111[2]-035[2]-046[2]-009[2]
227-141[3]-119[2]-115[2]-111[2]-112[2]-037[2]-009[2]
227-141[3]-119[2]-115[2]-111[2]-120[2]-045[2]-009[2]
227-141[3]-119[2]-115[2]-113[2]-035[2]-008[2]-009[2]
227-141[3]-119[2]-115[2]-113[2]-035[2]-036[2]-009[2]
227-141[3]-119[2]-115[2]-113[2]-035[2]-037[2]-009[2]
227-141[3]-119[2]-115[2]-113[2]-035[2]-045[2]-009[2]
227-141[3]-119[2]-115[2]-113[2]-035[2]-046[2]-009[2]
227-141[3]-119[2]-115[2]-113[2]-114[2]-037[2]-009[2]
227-141[3]-119[2]-115[2]-116[2]-027[2]-007[2]-009[2]
227-141[3]-119[2]-115[2]-116[2]-027[2]-037[2]-009[2]
227-141[3]-119[2]-115[2]-116[2]-112[2]-037[2]-009[2]
227-141[3]-119[2]-115[2]-116[2]-114[2]-037[2]-009[2]
227-141[3]-119[2]-115[2]-121[2]-042[2]-008[2]-009[2]
227-141[3]-119[2]-115[2]-121[2]-042[2]-036[2]-009[2]
227-141[3]-119[2]-115[2]-121[2]-042[2]-037[2]-009[2]
227-141[3]-119[2]-115[2]-121[2]-042[2]-040[2]-009[2]
227-141[3]-119[2]-115[2]-121[2]-042[2]-041[2]-009[2]
227-141[3]-119[2]-115[2]-121[2]-112[2]-037[2]-009[2]
227-141[3]-119[2]-115[2]-121[2]-114[2]-037[2]-009[2]
227-141[3]-119[2]-118[2]-034[2]-007[2]-007[2]-009[2]
227-141[3]-122[2]-043[2]-009[2]-007[2]-007[2]-009[2]
227-166[4]-012[3]-008[2]-006[2]-007[2]-009[2]
227-166[4]-012[3]-008[2]-006[2]-008[2]-009[2]
227-166[4]-012[3]-008[2]-007[2]-007[2]-009[2]
227-166[4]-012[3]-008[2]-008[2]-007[2]-009[2]
227-166[4]-012[3]-008[2]-008[2]-008[2]-009[2]
227-166[4]-012[3]-008[2]-009[2]-007[2]-009[2]
227-166[4]-012[3]-010[2]-006[2]-007[2]-009[2]
227-166[4]-012[3]-010[2]-006[2]-008[2]-009[2]
227-166[4]-012[3]-010[2]-012[2]-008[2]-009[2]
227-166[4]-012[3]-010[2]-012[2]-015[2]-009[2]
227-166[4]-012[3]-010[2]-013[2]-007[2]-009[2]
227-166[4]-012[3]-010[2]-013[2]-015[2]-009[2]
227-166[4]-012[3]-011[2]-006[2]-007[2]-009[2]
227-166[4]-012[3]-011[2]-006[2]-008[2]-009[2]
227-166[4]-012[3]-011[2]-014[2]-007[2]-009[2]
227-166[4]-012[3]-012[2]-008[2]-007[2]-009[2]
227-166[4]-012[3]-012[2]-008[2]-008[2]-009[2]
227-166[4]-012[3]-012[2]-012[2]-008[2]-009[2]
227-166[4]-012[3]-012[2]-012[2]-015[2]-009[2]
227-166[4]-012[3]-012[2]-013[2]-007[2]-009[2]
227-166[4]-012[3]-012[2]-013[2]-015[2]-009[2]
227-166[4]-012[3]-012[2]-014[2]-007[2]-009[2]
227-166[4]-012[3]-013[2]-007[2]-007[2]-009[2]
227-166[4]-012[3]-013[2]-013[2]-007[2]-009[2]
227-166[4]-012[3]-013[2]-013[2]-015[2]-009[2]
227-166[4]-012[3]-013[2]-014[2]-007[2]-009[2]
227-166[4]-012[3]-014[2]-007[2]-007[2]-009[2]
227-166[4]-012[3]-014[2]-014[2]-007[2]-009[2]
227-166[4]-012[3]-015[2]-009[2]-007[2]-009[2]
227-166[4]-012[3]-015[2]-013[2]-007[2]-009[2]
227-166[4]-012[3]-015[2]-013[2]-015[2]-009[2]
227-166[4]-012[3]-015[2]-014[2]-007[2]-009[2]
227-166[4]-160[2]-008[3]-006[2]-007[2]-009[2]
227-166[4]-160[2]-008[3]-006[2]-008[2]-009[2]
227-166[4]-160[2]-008[3]-007[2]-007[2]-009[2]
227-166[4]-160[2]-008[3]-008[2]-007[2]-009[2]
227-166[4]-160[2]-008[3]-008[2]-008[2]-009[2]
227-166[4]-160[2]-008[3]-009[2]-007[2]-009[2]
227-166[4]-160[2]-160[2]-008[3]-007[2]-009[2]
227-166[4]-160[2]-160[2]-008[3]-008[2]-009[2]
227-166[4]-160[2]-160[2]-160[2]-008[3]-009[2]
227-166[4]-160[2]-160[2]-160[2]-161[2]-009[3]
227-166[4]-160[2]-161[2]-009[3]-007[2]-009[2]
227-166[4]-160[2]-161[2]-161[4]-009[3]
227-166[4]-160[2]-160[4]-008[3]-009[2]
227-166[4]-160[2]-160[4]-161[2]-009[3]
227-166[4]-166[2]-012[3]-008[2]-007[2]-009[2]
227-166[4]-166[2]-012[3]-008[2]-008[2]-009[2]
227-166[4]-166[2]-012[3]-012[2]-008[2]-009[2]
227-166[4]-166[2]-012[3]-012[2]-015[2]-009[2]
227-166[4]-166[2]-012[3]-013[2]-007[2]-009[2]
227-166[4]-166[2]-012[3]-013[2]-015[2]-009[2]
227-166[4]-166[2]-012[3]-014[2]-007[2]-009[2]
227-166[4]-166[2]-160[2]-008[3]-007[2]-009[2]
227-166[4]-166[2]-160[2]-008[3]-008[2]-009[2]
227-166[4]-166[2]-160[2]-160[2]-008[3]-009[2]
227-166[4]-166[2]-160[2]-160[2]-161[2]-009[3]
227-166[4]-166[2]-166[2]-012[3]-008[2]-009[2]
227-166[4]-166[2]-166[2]-012[3]-015[2]-009[2]
227-166[4]-166[2]-166[2]-160[2]-008[3]-009[2]
227-166[4]-166[2]-166[2]-160[2]-161[2]-009[3]
227-166[4]-166[2]-166[2]-167[2]-015[3]-009[2]
227-166[4]-166[2]-166[2]-167[2]-161[2]-009[3]
227-166[4]-167[2]-015[3]-009[2]-007[2]-009[2]
227-166[4]-167[2]-015[3]-013[2]-007[2]-009[2]
227-166[4]-167[2]-015[3]-013[2]-015[2]-009[2]
227-166[4]-167[2]-015[3]-014[2]-007[2]-009[2]
227-166[4]-167[2]-161[2]-009[3]-007[2]-009[2]
227-166[4]-167[2]-161[2]-161[4]-009[3]
227-166[4]-167[2]-167[4]-015[3]-009[2]
227-166[4]-167[2]-167[4]-161[2]-009[3]
227-166[4]-166[4]-012[3]-008[2]-009[2]
227-166[4]-166[4]-012[3]-015[2]-009[2]
227-166[4]-166[4]-160[2]-008[3]-009[2]
227-166[4]-166[4]-160[2]-161[2]-009[3]
227-166[4]-166[4]-167[2]-015[3]-009[2]
227-166[4]-166[4]-167[2]-161[2]-009[3]
227-203[2]-070[3]-015[2]-009[2]-007[2]-007[2]-009[2]
227-203[2]-070[3]-015[2]-013[2]-007[2]-007[2]-009[2]
227-203[2]-070[3]-015[2]-013[2]-013[2]-007[2]-009[2]
227-203[2]-070[3]-015[2]-013[2]-013[2]-015[2]-009[2]
227-203[2]-070[3]-015[2]-013[2]-014[2]-007[2]-009[2]
227-203[2]-070[3]-015[2]-014[2]-007[2]-007[2]-009[2]
227-203[2]-070[3]-015[2]-014[2]-014[2]-007[2]-009[2]
227-203[2]-070[3]-043[2]-009[2]-007[2]-007[2]-009[2]
227-216[2]-119[3]-044[2]-008[2]-006[2]-007[2]-009[2]
227-216[2]-119[3]-044[2]-008[2]-006[2]-008[2]-009[2]
227-216[2]-119[3]-044[2]-008[2]-007[2]-007[2]-009[2]
227-216[2]-119[3]-044[2]-008[2]-008[2]-007[2]-009[2]
227-216[2]-119[3]-044[2]-008[2]-008[2]-008[2]-009[2]
227-216[2]-119[3]-044[2]-008[2]-009[2]-007[2]-009[2]
227-216[2]-119[3]-044[2]-025[2]-006[2]-007[2]-009[2]
227-216[2]-119[3]-044[2]-025[2]-006[2]-008[2]-009[2]
227-216[2]-119[3]-044[2]-025[2]-026[2]-007[2]-009[2]
227-216[2]-119[3]-044[2]-025[2]-026[2]-036[2]-009[2]
227-216[2]-119[3]-044[2]-025[2]-027[2]-007[2]-009[2]
227-216[2]-119[3]-044[2]-025[2]-027[2]-037[2]-009[2]
227-216[2]-119[3]-044[2]-025[2]-028[2]-007[2]-009[2]
227-216[2]-119[3]-044[2]-025[2]-028[2]-040[2]-009[2]
227-216[2]-119[3]-044[2]-025[2]-028[2]-041[2]-009[2]
227-216[2]-119[3]-044[2]-025[2]-035[2]-008[2]-009[2]
227-216[2]-119[3]-044[2]-025[2]-035[2]-036[2]-009[2]
227-216[2]-119[3]-044[2]-025[2]-035[2]-037[2]-009[2]
227-216[2]-119[3]-044[2]-025[2]-035[2]-045[2]-009[2]
227-216[2]-119[3]-044[2]-025[2]-035[2]-046[2]-009[2]
227-216[2]-119[3]-044[2]-025[2]-038[2]-008[2]-009[2]
227-216[2]-119[3]-044[2]-025[2]-038[2]-040[2]-009[2]
227-216[2]-119[3]-044[2]-025[2]-038[2]-046[2]-009[2]
227-216[2]-119[3]-044[2]-025[2]-039[2]-007[2]-009[2]
227-216[2]-119[3]-044[2]-025[2]-039[2]-008[2]-009[2]
227-216[2]-119[3]-044[2]-025[2]-039[2]-041[2]-009[2]
227-216[2]-119[3]-044[2]-025[2]-039[2]-045[2]-009[2]
227-216[2]-119[3]-044[2]-025[2]-039[2]-046[2]-009[2]
227-216[2]-119[3]-044[2]-025[2]-042[2]-008[2]-009[2]
227-216[2]-119[3]-044[2]-025[2]-042[2]-036[2]-009[2]
227-216[2]-119[3]-044[2]-025[2]-042[2]-037[2]-009[2]
227-216[2]-119[3]-044[2]-025[2]-042[2]-040[2]-009[2]
227-216[2]-119[3]-044[2]-025[2]-042[2]-041[2]-009[2]
227-216[2]-119[3]-044[2]-031[2]-006[2]-007[2]-009[2]
227-216[2]-119[3]-044[2]-031[2]-006[2]-008[2]-009[2]
227-216[2]-119[3]-044[2]-031[2]-007[2]-007[2]-009[2]
227-216[2]-119[3]-044[2]-031[2]-031[2]-007[2]-009[2]
227-216[2]-119[3]-044[2]-031[2]-033[2]-007[2]-009[2]
227-216[2]-119[3]-044[2]-034[2]-007[2]-007[2]-009[2]
227-216[2]-119[3]-115[2]-025[2]-006[2]-007[2]-009[2]
227-216[2]-119[3]-115[2]-025[2]-006[2]-008[2]-009[2]
227-216[2]-119[3]-115[2]-025[2]-026[2]-007[2]-009[2]
227-216[2]-119[3]-115[2]-025[2]-026[2]-036[2]-009[2]
227-216[2]-119[3]-115[2]-025[2]-027[2]-007[2]-009[2]
227-216[2]-119[3]-115[2]-025[2]-027[2]-037[2]-009[2]
227-216[2]-119[3]-115[2]-025[2]-028[2]-007[2]-009[2]
227-216[2]-119[3]-115[2]-025[2]-028[2]-040[2]-009[2]
227-216[2]-119[3]-115[2]-025[2]-028[2]-041[2]-009[2]
227-216[2]-119[3]-115[2]-025[2]-035[2]-008[2]-009[2]
227-216[2]-119[3]-115[2]-025[2]-035[2]-036[2]-009[2]
227-216[2]-119[3]-115[2]-025[2]-035[2]-037[2]-009[2]
227-216[2]-119[3]-115[2]-025[2]-035[2]-045[2]-009[2]
227-216[2]-119[3]-115[2]-025[2]-035[2]-046[2]-009[2]
227-216[2]-119[3]-115[2]-025[2]-038[2]-008[2]-009[2]
227-216[2]-119[3]-115[2]-025[2]-038[2]-040[2]-009[2]
227-216[2]-119[3]-115[2]-025[2]-038[2]-046[2]-009[2]
227-216[2]-119[3]-115[2]-025[2]-039[2]-007[2]-009[2]
227-216[2]-119[3]-115[2]-025[2]-039[2]-008[2]-009[2]
227-216[2]-119[3]-115[2]-025[2]-039[2]-041[2]-009[2]
227-216[2]-119[3]-115[2]-025[2]-039[2]-045[2]-009[2]
227-216[2]-119[3]-115[2]-025[2]-039[2]-046[2]-009[2]
227-216[2]-119[3]-115[2]-025[2]-042[2]-008[2]-009[2]
227-216[2]-119[3]-115[2]-025[2]-042[2]-036[2]-009[2]
227-216[2]-119[3]-115[2]-025[2]-042[2]-037[2]-009[2]
227-216[2]-119[3]-115[2]-025[2]-042[2]-040[2]-009[2]
227-216[2]-119[3]-115[2]-025[2]-042[2]-041[2]-009[2]
227-216[2]-119[3]-115[2]-111[2]-035[2]-008[2]-009[2]
227-216[2]-119[3]-115[2]-111[2]-035[2]-036[2]-009[2]
227-216[2]-119[3]-115[2]-111[2]-035[2]-037[2]-009[2]
227-216[2]-119[3]-115[2]-111[2]-035[2]-045[2]-009[2]
227-216[2]-119[3]-115[2]-111[2]-035[2]-046[2]-009[2]
227-216[2]-119[3]-115[2]-111[2]-112[2]-037[2]-009[2]
227-216[2]-119[3]-115[2]-111[2]-120[2]-045[2]-009[2]
227-216[2]-119[3]-115[2]-113[2]-035[2]-008[2]-009[2]
227-216[2]-119[3]-115[2]-113[2]-035[2]-036[2]-009[2]
227-216[2]-119[3]-115[2]-113[2]-035[2]-037[2]-009[2]
227-216[2]-119[3]-115[2]-113[2]-035[2]-045[2]-009[2]
227-216[2]-119[3]-115[2]-113[2]-035[2]-046[2]-009[2]
227-216[2]-119[3]-115[2]-113[2]-114[2]-037[2]-009[2]
227-216[2]-119[3]-115[2]-116[2]-027[2]-007[2]-009[2]
227-216[2]-119[3]-115[2]-116[2]-027[2]-037[2]-009[2]
227-216[2]-119[3]-115[2]-116[2]-112[2]-037[2]-009[2]
227-216[2]-119[3]-115[2]-116[2]-114[2]-037[2]-009[2]
227-216[2]-119[3]-115[2]-121[2]-042[2]-008[2]-009[2]
227-216[2]-119[3]-115[2]-121[2]-042[2]-036[2]-009[2]
227-216[2]-119[3]-115[2]-121[2]-042[2]-037[2]-009[2]
227-216[2]-119[3]-115[2]-121[2]-042[2]-040[2]-009[2]
227-216[2]-119[3]-115[2]-121[2]-042[2]-041[2]-009[2]
227-216[2]-119[3]-115[2]-121[2]-112[2]-037[2]-009[2]
227-216[2]-119[3]-115[2]-121[2]-114[2]-037[2]-009[2]
227-216[2]-119[3]-118[2]-034[2]-007[2]-007[2]-009[2]
227-216[2]-160[4]-008[3]-006[2]-007[2]-009[2]
227-216[2]-160[4]-008[3]-006[2]-008[2]-009[2]
227-216[2]-160[4]-008[3]-007[2]-007[2]-009[2]
227-216[2]-160[4]-008[3]-008[2]-007[2]-009[2]
227-216[2]-160[4]-008[3]-008[2]-008[2]-009[2]
227-216[2]-160[4]-008[3]-009[2]-007[2]-009[2]
227-216[2]-160[4]-160[2]-008[3]-007[2]-009[2]
227-216[2]-160[4]-160[2]-008[3]-008[2]-009[2]
227-216[2]-160[4]-160[2]-160[2]-008[3]-009[2]
227-216[2]-160[4]-160[2]-160[2]-161[2]-009[3]
227-216[2]-160[4]-161[2]-009[3]-007[2]-009[2]
227-216[2]-160[4]-161[2]-161[4]-009[3]
227-216[2]-160[4]-160[4]-008[3]-009[2]
227-216[2]-160[4]-160[4]-161[2]-009[3]
227-216[2]-215[4]-111[3]-035[2]-008[2]-009[2]
227-216[2]-215[4]-111[3]-035[2]-036[2]-009[2]
227-216[2]-215[4]-111[3]-035[2]-037[2]-009[2]
227-216[2]-215[4]-111[3]-035[2]-045[2]-009[2]
227-216[2]-215[4]-111[3]-035[2]-046[2]-009[2]
227-216[2]-215[4]-111[3]-112[2]-037[2]-009[2]
227-216[2]-215[4]-111[3]-120[2]-045[2]-009[2]
227-216[2]-215[4]-160[4]-008[3]-009[2]
227-216[2]-215[4]-160[4]-161[2]-009[3]
227-216[2]-215[4]-219[2]-120[3]-045[2]-009[2]
227-216[2]-215[4]-219[2]-161[4]-009[3]